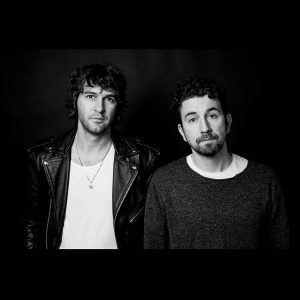 "Debauchery and guitars" would be as good a description one could give for the music of Vancouver outfit Japandroids. This theme, and their Springsteen-meets-Replacements sound, is what garnered them both critical acclaim and a cult fanbase.
High off of the success of their third LP "Celebration Rock" and its accompanying tour, the 2013 Facebook post where they let their legion of followers know it was "time for [them] to disappear into the ether for a while" came as a shock. And so for many, their favorite band ghosted at a time that they needed them most (2014 did bring us "Shut Up and Dance," which is only slightly less appalling than it's sister "Black Mirror" episode). Now, after the dark times, the band makes their return with "Near to the Wild Heart of Life," a record that meets the hype in nearly every respect.
Japandroids are more known for their raucous guitars and scream-it-all-out choruses than their lyrical ambitions (the album title is an accidental James Joyce quote), which makes the growth on this album all the more tremendous. Brian King, the primary songwriter and singer, tends to keep things in the wheelhouse of rockism tropes: drinking, women, songs about songs. For the album's opening two songs, the boys bring the noise and words that many of the fans have come to expect.
The titular opener name checks all three themes by the second verse in a matter of two lines, "So the girl behind the bar came over/And she took me aside/She kissed me like a chorus." This of course happens in the local bar, and helps to establish a running theme throughout the album, returning home. Japandroids longing for a normal life has been cited as the reason for their hiatus, and so it makes sense that home becomes a muse for the record.
The second track, a road warrior "North East South West," keeps up with the themes, both lyrically and musically. Heavy riffs, thundering drums, and another group backing vocal to let you know when to yell "Woah!" These two cuts wouldn't feel out of place on 2012's "Celebration Rock," and they appear to be the product of road tested crowd pleasers than studio-tinker cuts.
Once you push past the quick start, however, King and David Prowse have their aims on something more ambitious than "Rock II: Rocking Harder." This is evident by a synth and acoustic guitar introduction that begins "True Love and a Free Life of Free Will." The track may well be the first example of front-to-back love song in the band's career (it's certainly no "I Quit Girls" or "Sexual Aerosol"), and is notable for being the only song produced by Damian Taylor, who has worked with both the Killers and Arcade Fire. His ear for mid '00s arena rock remains and marks a shift in Japandroids' ability to experiment throughout the rest of the album.
The rest of the album allows Japandroids to take larger studio risks, including the ambitious "Ark of Bar," a seven minute slow burner of a centerpiece that is kept marching through Prowse's steady tom and a heavy synth line. Snare's hit as King weaves a narrative through a series of gambling metaphors threatened to be drowned out by the guitar's reverb. Elsewhere, King brings what appears to be his most confessional songwriting today, like when he's finally putting away the boozehound touring lifestyle on "No Known Drink or Drug" or lamenting how time wanes youth and innocence on "In a Body Like a Grave".
As for those who aren't fans of Japandroids' earlier work, I'm afraid this album may not have much conversion power. Embracing this band requires a certain denial of the easy criticisms of calling the themes cliche or the tunes rote; these criticisms miss the point. What keeps the legions coming back isn't the band's inventive nature or forward thinking but the feverous passion with which they approach each chord and beat. And on that front, the duo have yet to fail.