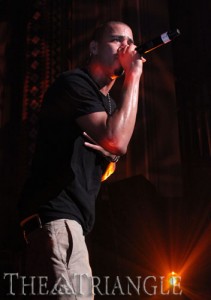 On Oct. 12, J. Cole performed in front of a sold-out crowd at the Electric Factory. Cole said the crowd was one of the hypest he has seen to date on his "Cole World" Tour.
J. Cole's story is very different from that of your other favorite rappers. At 16 years old, J. Cole decided he wanted to be a rapper. After moving to New York to attend St. John's University, it became apparent to him that he had what it takes to be a star in the industry. While many rappers drop out of school or don't even go to college so that they can pursue their dreams, Cole graduated, got his diploma and uses that to his advantage in his music.
"It gives me something else to talk about," Cole said. "It's not a perspective that a lot of rappers can speak on. Some of the things I say, some of the references I have are totally different from what other rappers can even or would even say."
His debut album, "Cole World: The Sideline Story," released Sept. 27, was the No. 1 album in the country the week of its release, selling over 217,000 copies. I asked J. Cole about what he wanted to achieve both sonically and lyrically with his debut. "Sonically I wanted it to sound bigger than the mixtapes, more like an album, more polished. The only way I could do that is by bringing in live musicians. That's why you hear the live bass, strings and horns, and even guitar on a lot of the hooks." And Cole definitely accomplished that. Unlike many rappers, he actually produced 12 of the 16 songs on the album and co-produced another. His ability to create a sound for himself enables him to bring more to the music than other artists.
On top of all of his accomplishments in creating the music, he's one of the best lyricists in hip-hop today. After releasing three critically acclaimed mixtapes, J. Cole had a high bar set for the album. "Lyrically I just wanted to stay on par and sometimes better than the mixtapes while still showing some growth. You have songs like 'A Dollar and A Dream III,' which is super lyrical. Or you have 'Sideline Story,' which is all about the raps. But then you have 'Cole World,' which is kind of easy on the lyrics but more about the flow. Lyrics are hard; the average person would say he killed 'Cole World,' but if you really listen to 'Dead Presidents 2,' you know it's not the same level, but it's still good."
On Oct. 12, J. Cole performed at the Electric Factory as a part of his "Cole World: World Tour." Unlike other concerts I've been to recently, J. Cole didn't make fans wait hours for his set. About 10 minutes after the only opening act wrapped up his set, DJ Dummy, J. Cole's DJ, stepped onstage and began to warm up the crowd with classic hip-hop records and current hits.
As the clock struck 9 p.m., the covers on the keyboards came off, and Cole's small band appeared on stage. They began playing "Looking For Trouble" from his latest mixtape, "Friday Night Lights," as the fans went crazy. Shortly thereafter, J. Cole began rapping as he walked onstage. He then began performing "Cole World" from his debut album, and after just two songs, he knew it was going to be an incredible night. He stopped the band and said, "I can already tell that there are a lot of people in here that have been f***ing with me for a while."
When I spoke to J. Cole last Friday, he told me, "Philly was one of those special ones. I just felt connected to the crowd. I loved the way the venue was set up. I did Philly before a couple of times, but that was the biggest venue we had, and probably one of the hypest crowds on the tour."
During every song of his set, J. Cole was pouring his heart and soul out to the crowd. Whether it was an up-tempo song such as "Mr. Nice Watch," or his emotional "Lost Ones," he brought the same energy to the fans. "I just really try to give 110 percent. Every time I leave the stage, I'm soaking wet, sweating, voice gone, knowing that I left it all on stage."
J. Cole's live show is incredibly impressive. For a young performer, Cole seems like a veteran. He looks comfortable and confident on stage at all times, no matter the song or moment. He has no hype man; it's just him, two keyboard players and his DJ giving the crowd everything they've got. It is a true live performance, unlike many rappers who now use only a DJ. His band was on point all night, performing interesting compositions of his mixtape and album records. At one point, J. Cole even hopped on the keys to play "Lights Please," one of the songs that helped get him signed to Jay-Z's label, Roc Nation.
If I wasn't already sure enough, last Wednesday's performance proved that J. Cole is the most impressive rapper in his class. J. Cole is one of the only triple threats in hip-hop today: he's an extraordinary lyricist, excellent producer and phenomenal performer.