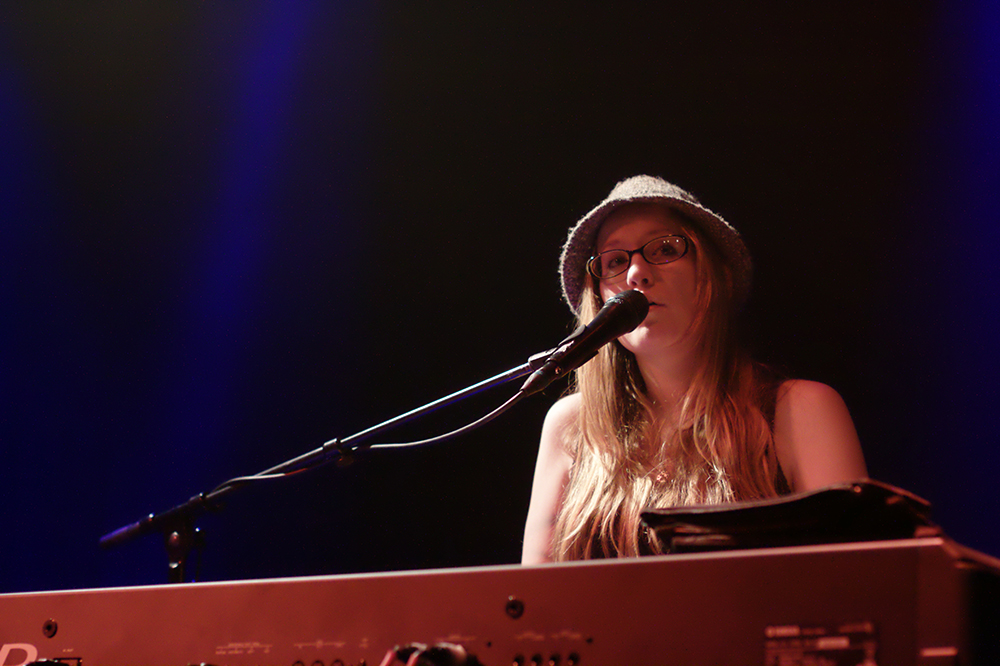 Ingrid Michaelson brought her indie pop sound to the Fillmore on Nov. 14, leaving fans mesmerized by her lulling harmonies, singing and clapping along to all of the fan favorites, new and old.
Ingrid came out to a packed house, accompanied by her ukulele and her three bandmates. Performing a leg of her "Hell No" Tour, Michaelson shined in the city she loved, saying Philadelphia was one of the first cities she ever toured.
It was almost completely dark, except for the spotlight on Michaelson while she showed off her incredible range with a song from her latest album, "It Doesn't Have to Make Sense."
Background vocals blended perfectly, especially when she continued with a piano solo that caused the whole crowd to go silent.
What truly amazed me was how effortlessly she sang, getting a crowd of hundreds to sing along and create a warm atmosphere under the incandescent lights of the venue. Of course she didn't forget to sing her classic fan favorites; "Parachute" had the whole crowd clapping to the beat.
Perhaps my favorite moment of the concert was when she belted out incredibly powerful notes with her intimate ukulele cover of "Creep" by Radiohead. Michaelson told the fans that they had to cheer for her when she hit those notes, which got everyone in the room laughing.
She followed up with her ballad "The Way I Am" and demanded that everyone sing along to the song she had written 10 years ago. "Be Ok" from her 2008 album had everyone dancing, while Michaelson strummed her ukulele with drums, the guitar and background vocals creating an intimate sound that felt like a live recording on stage.
Michaelson's onstage presence was great, as she and her bandmates posed for photo ops onstage, dressed in princess hats and tutus, saying that she would make sure she looked great in photos posted on Instagram.
The crowd was almost in tears, becoming Michaelson's personal choir. Michaelson gave a raw performance, acapella like in the way that she can connect with the audience on a personal level with just her ukulele or by the keyboard.
Transitioning from her softer ballads to more upbeat pop rock, Michaelson rocked out to tunes from her "Lights Out" album like "WarPath" and "Afterlife." She followed up with another intimate piano solo of "Turn To Stone" that once again showed off her harmonious tone and was almost haunting.
Michaelson ended the show, surrounded by bright lights and upbeat, energetic sounds, with a medley of songs from her new record, "Hell No." The medley included "Still the One," "Celebrate" (a personal favorite of mine), and she finally ended with "Girls Chase Boys," her 2014 hit single from "Lights Out."
Michaelson interjected with a story about how the real eighth grade Jimmy Clark had inspired her to write "Hell No." She danced around the stage, had a fan sing the chorus of Celebrate, and we all stomped and clapped to "Girls Chase Boys." It's the perfect anthem for anyone recovering from a breakup.
Michaelson didn't stop the show there, saying that she couldn't leave us that way. She came back again with her onstage antics, she and her bandmates donning silver studded jackets. She officially ended the night by having each of her bandmates strut their moves on the stage and everyone had fun.
Michaelson blew the audience away with her incredible vocals and effortless performances alongside her bandmates. She left everyone smiling from nostalgia with her classics, and cheering with her new upbeat pop songs, and there was definitely something for everyone.
It was one of the best live performances I've seen, and her "onstage antics" really made the audience feel connected and at home, like seeing an old friend.