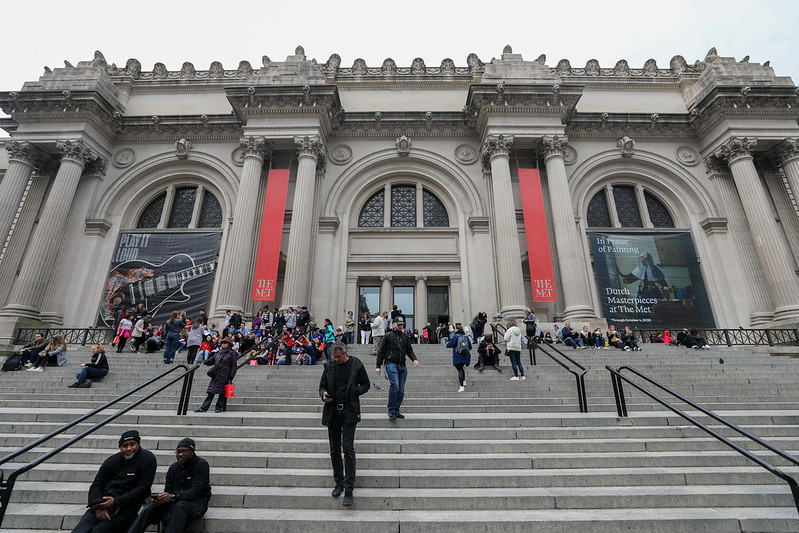 It is that time of year again! Art, fashion and pop-culture lovers patiently waited for the first Monday in May to roll around. Now that it has come and gone once more, let us relive some of the best, worst and most outlandish Met Gala looks of 2023 so you can be in the know on all of the impending TikToks, memes, blind items and celebrity drama.
The Met Gala is the largest fundraising event of the year for The Met Costume Institute — the only museum department that is entirely self-funded — and it is no wonder why when tickets cost a minimum of $50,000 each. This year's gala marks the opening of The Costume Institute's newest exhibition "Karl Lagerfeld: A Line of Beauty." The posthumous retrospective honors the influential (albeit problematic) designer and his legacy, which spanned nearly 70 years with creative contributions to top fashion houses like Balmain, Patou, Chloé, Fendi, Chanel and his own namesake house, Karl Lagerfeld. Because of Lagerfeld's rich contributions to the fashion world and his signature aesthetics, this year's Met Gala theme was expected to be a showstopper. Celebrities and designers alike seemed eager to rise to the challenge and honor Lagerfeld's legacy, as many not only met but exceeded expectations.
Some of the incredible looks drew inspiration from some obvious Lagerfeld motifs: camellia flowers, black and white color palettes, striking silhouettes, Chanel brides, crystals, pearls, blazers, sunglasses, blouses and iconic Chanel tweed. However, some attendees drew upon more abstract representations, which became apparent as the Met steps were overrun by extravagant dress trains and an alarming number of cats — yes, cats.
So, without further ado, here are some of the most iconic looks of the night that are sure to earn their place in the Met Gala Hall of Fame alongside Kim Kardashian's Marilyn Monroe dress, Jared Leto's fake head and literally anything Rihanna has worn, ever.
First up, the two Met Gala co-chairs that did not come to play games. Dua Lipa was our first Chanel Bride of the evening, wearing Chanel's Fall 1992 bridal gown, originally worn on the runway by Claudia Schiffer. And, in true "Ocean's 8" fashion, the star also wore a never-before-seen Tiffany necklace borrowed from the Tiffany vaults. Michaela Coel made a jaw-dropping appearance in this ornate Schiaparelli gown that was, she revealed to Vogue, adorned with 130,000 crystals and 26,000 mixed stones and took 3,800 hours to create.
Another major trend of the night: iconic Chanel self-references. Gisele Bündchen walked the steps in this vintage Chanel gown from 2007, which she originally wore in an editorial shoot with Lagerfeld. Similarly, Nicole Kidman wore a Chanel gown from her 2004 Chanel No. 5 commercial shoot with the designer.
Anne Hathaway (in Versace), Teyana Taylor (in Thom Browne) and Keke Palmer (in Sergio Hudson) wore some of my favorite contemporary iterations of the classic Chanel tweed to grace the Met steps Monday evening.
Would it even be a Met Gala without some divisive looks from the Kardashian/Jenner crew? Probably, yes, but it is surely much more entertaining when they are in attendance. Kim Kardashian wore a Schiaparelli that many felt looked a bit sloppy. Some even complained that the dress just looked like pearls draped over shapewear. Have we seen better from her? Definitely, but I think she accomplished the incredible feat of combining Skims with Karl Lagerfeld all while making a clever callback to her 2007 Playboy shoot — which deserves some credit, in my opinion. Kylie wore a Haider Ackermann for Jean Paul Gaultier dress that, admittedly, looked absolutely incredible on her. However, in true "Kylie at the Met" fashion, she totally missed the theme — it is hard to think of something less Lagerfeld than that shade of red. Kendall also looked amazing, wearing a Marc Jacobs body suit, but the first thing that came to mind when I saw her look was…have we just been Krissed? All jokes aside, no matter how you feel about the trio's Met Gala looks, you cannot deny that Kris Jenner would have absolutely owned this year's theme. But at least we know she was there in spirit through Kendall's extremely Kris-coded bodysuit.
The Met steps were filled with Chanel brides, but some clearly stood out above the rest. Co-chair Penélope Cruz arrived in this Chanel bride gown from the 1988 Spring/Summer couture line. Alton Mason, the first black man to walk the runway for Chanel in 2018, added a modern twist to the classic Chanel bride with this custom Hun Kim for Karl Lagerfeld jumpsuit ensemble. Arriving fashionably late, the queen of the Met Gala herself, Rihanna walked the steps in this camellia flower-covered gown by Valentino.
What could be more on theme than striking silhouettes, camellia flowers, corsets, Chanel tweed and sharp white collars? Cardi B (in Chenpeng Studio) and Jenna Ortega (in Thom Browne) brought some of the best and most Lagerfeld looks of the night.
Last, but certainly not least, a select few attendees decided to pay homage to Lagerfeld's beloved cat, Choupette, instead. Doja Cat, who now that I think of it may have just been paying homage to herself, turned heads in this Oscar De La Renta gown complete with cat-ear hood and facial prosthetics. Lil Nas X honored Choupette with head-to-toe body makeup by Pat McGrath. My most anticipated attendee of the night, Jared Leto, did not disappoint arriving in a full-body cat costume in the likeness of the designer's cat. The costume's designer, Joshua Balster, divulged to The Guardian that he had to sign an NDA before taking on the project of designing Leto's hyper-realistic costume complete with a cooling mechanism in the head. If I had a nickel for every time Jared Leto carried a prop head up the Met steps…cue the TikTok audio I know you are all thinking of.

Despite the 2023 Met Gala's iconic looks, I feel I must acknowledge the controversy surrounding this year's theme. While Lagerfeld has made countless contributions to the fashion world, he is also an extremely controversial and problematic figure. Lagerfeld's very public Islamophobic and fatphobic statements, not to mention his efforts to conceal his family's Nazi sympathies — exposed in journalist Alfons Kaiser's 2020 Lagerfeld biography "Karl Lagerfeld: A Life In Fashion" — make it hard to comprehend why the Met would honor him in an exhibition. Needless to say, the separation between art and artist is a heavily debated issue and one that clearly arises here. I encourage you to do your own further research on the topic, but it is disheartening to see a cultural institution that outwardly preaches equality and social justice, honor an individual that seems to believe in the contrary.
Regardless, many attendees made an effort to honor fashion history in their looks without extolling Lagerfeld himself. There were so many incredible looks from Monday evening that are not included here but are definitely worth noting, so go check those out to get your fill of Met Gala fashion until next year.