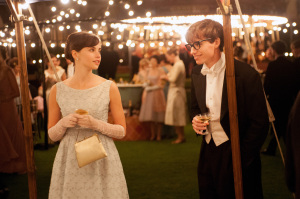 Every year I say something along the lines of "If so-and-so doesn't win an award for so-and-so's movie, I'm never watching the yada-yada awards ever again." Of course, very rarely does my particular so-and-so win. Alas, I continue to watch the Oscars, Emmys and Golden Globes anyway because award shows are indicative of what Hollywood will spend its money on next year. This year, my so-and-so pick is a two-fer: if neither Eddie Redmayne nor Felicity Jones receives an award for "The Theory of Everything," well, then, I'm never watching any award shows ever again. You can quote me on that.
"The Theory of Everything" is being billed as "the Stephen Hawking biopic." It tells the story of the legendary physicist Hawking from when he began creating his first theories about black holes until he writes "A Brief History of Time," arguably his most famous work. It also happens to tell the story of how Hawking meets his future wife, Jane Wilde, and how their relationship forms around his battle with amyotrophic lateral sclerosis (known often as Lou Gehrig's disease).
Spoiler alert: Hawking ends up in a wheelchair with a computerized voice and continues to work as a physicist. That's no spoiler, because if you didn't already know that then you probably don't know who Stephen Hawking is and most likely won't watch a two-hour movie about his life.
Hawking is played by Redmayne, known for his roles in 2012's "Les Miserables" and 2011's "My Week with Marilyn." Redmayne doesn't have as many starring film credits as one might guess of a former Burberry model. In fact, if you knew him from a movie not listed above, I'd be surprised. His relatively untested star power makes his performance as Hawking even more impressive.
It borders on redundancy to write that playing the role of the most famous living physicist, who is also the victim of a disease that causes one to lose control of their muscles, would be difficult. Frankly, Redmayne is brilliant. From the (pre-ALS) get-go, Redmayne has Hawking's sense of humor and intelligence down pat. He so completely transforms into the legend that the actor himself completely disappears. This is no "Lincoln" — a huge actor can bring a dead guy to life, but who's to say if he really captured him? All we have is a penny and some old photos for proof.
No, Redmayne recreates a living human, known all over the world, who has a very specific physicality and mannerism. Halfway through watching "The Theory of Everything" I had to remind myself that I was in fact watching an actor and not the man himself. Not only did Redmayne nail Hawking's physical demeanor through all stages of his illness, but he retained his fantastic sense of humor, his pain and strength, and his passion all within that limited physical range. Mimicking a person's personality or accent or look is one thing. Evoking realistic emotion as an actor is another. Taking on the role of someone so outwardly defined by a disability and managing to bring to life the real human nuance the subject actually owns (while hitting every punch line) is breathtaking.
The thing is, no matter what the Focus Features marketing department wants you to think, this movie isn't just a biopic; it's a story of two people. Again, it borders on redundant to explain how difficult it must be to see ALS leech the strength from a loved one, all while bearing the burden of caring for him and his genius. Imagine the range of emotions a woman must go through in a day, let alone a lifetime, going through the experience that Jane Wilde did. Jones takes that on and delivers.
If Jane's character had been played by someone else, the movie actually might have just been a Stephen Hawking biopic. But it's not. It's a movie about the development of a relationship and all that comes with it. Without Jones in the role, the editor might have focused on Hawking's pain and not hers, his joy and not hers, his life and not theirs. And it is their life — if the movie teaches us anything, it is that marriage is not "two bodies, one soul," but a process of negotiation involving two separate, whole people. Jones' Jane not only holds her own against the larger-than-life personality that is Hawking, but against Redmayne's mesmerizing performance. She communicates so much in even silent moments (there's a lot to be said about communication in the film, of course — essays' worth) that her talking scenes are a treat.
With all the difficulties involved, the plot could have easily reached its emotional peak with a grandiose show of anger or bitterness between two lovers. Instead it reaches tiny peaks of tension and frustration, as fine-tuned as its actors performances. I must also mention the fantastic costume, set and makeup design. The basic rule of good design is that you don't notice it, and for the average viewer the look of the film progresses imperceptibly through decades of Hawkings' life. If you're obsessed with '60s-era clothes like I am, you'll instead applaud its spot-on historical accuracy.
The thing about "The Theory of Everything" is that it may not win any awards. Its cast isn't big enough to receive an assumed nomination, and it isn't small enough to transform them into Hollywood stars as the academies so love to do with unknowns. The performances, the script and the design seamlessly bring to life the Hawkings' life. It isn't a big Disney-fied comeback story or an Oscar-bait action flick or an underdog indie. It is a well-made film full of amazing acting that leaves you with a sense of awe, not of red carpet showboating. So, if it doesn't win, oh well. It's probably better off for it.