Philadelphia saw its first snowfall of the season Nov. 7, but that didn't stop Texas natives Green River Ordinance from performing their show at World Cafe Live.
"We're from Texas, where the threat of snow shuts everything down. Snow is different to Green River Ordinance. But we're glad we're here," lead singer Josh Jenkins said.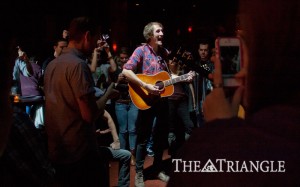 The night started off with British singer-songwriter and slide guitarist Martin Harley with his bluesy folk music. Although being a slide guitarist required Harley to stay seated, he still managed to energize the crowd with his fast-paced tunes.
Following Harley, Louisiana's very own Andy Davis took the stage with what he describes as his "newly minted pop-soul classics." Some might know Davis from his acting debut on Lifetime's TV show "Drop Dead Diva," where he performed a cover of The Righteous Brothers' 1965 hit single "Unchained Melody."
After Davis closed his set with fan-favorite "Brown Eyes," Green River Ordinance was set to take the stage. All at once, the lights went out and a soulful blues tune started to flow out of the speakers. One by one, the members of Green River Ordinance walked out onto the dark stage. As the song went to a close, the backdrop lights started flashing and Green River Ordinance was in the groove with the first note.
Green River Ordinance played many fan favorites such as "Endlessly" and "Healing Touch," which both ended with a crowd sing-along at the end. The band dedicated "Healing Touch" to a couple in the crowd whose 35th wedding anniversary was approaching.
Green River Ordinance gave fans the music they wanted to hear and also gave fans a show they would never forget with a few sentimental moments scattered throughout the performance. One of those moments was when they called Andy Davis back onstage to perform a cover of The Beatles' "With a Little Help from My Friends." Another moment was when drummer Denton Hunker and guitarist Josh Wilkerson closed their song "Hallelujah" with an intense drum solo that drove the crowd wild.
Toward the end of the night, Jenkins called a couple onto the stage for a song that everyone loves: "Dancing Shoes." With much awe from the crowd, the couple got engaged onstage with Green River Ordinance and dozens of other fans watching. Green River Ordinance closed their set with "Come On," an oldie but a goodie.
For their encore, Green River Ordinance did something not many other bands do. They completely unplugged their instruments and joined the crowd on the floor for an acoustic performance of their song "Learning."
I've seen Green River Ordinance several times in the past, but this show definitely topped them all. They always provide their audience with great music and a great time.
Green River Ordinance has shared the stage with other large acts such as Bon Jovi, Train, Counting Crows and more. The band's debut album, "Out of Our Hands," was No. 10 on Billboard's Heatseekers Chart. Despite all of the success, the band stepped away and started over in July 2010.
Green River Ordinance released its new album "Under Fire" this past February, and it is available on iTunes now. This album contains 14 new songs, a bonus track of "Dancing Shoes," and bassist Geoff Ice's favorite song to perform live: "Resting Hour."