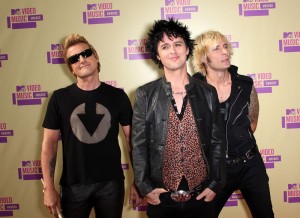 To promote an upcoming album, some bands do press junkets, make television appearances and star in Target commercials. But that's not very rock 'n' roll compared to say a massive meltdown during an iHeartRadio set in Las Vegas. That's what Green Day's Billy Joe Armstrong decided to do when his band's set was cut short at the concert, lampooning Justin Bieber and smashing his guitar in the process — much more rock 'n' roll.
The attention that the incident garnered might be enough to publicize Green Day's next three albums: "Uno!," "Dos!" and "Tre!" And no, to my knowledge, the albums were not named after what Armstrong said before taking what was sure to be an excessive amount of shots backstage at the festival.
"Uno!" arrived Sept. 25, largely overshadowed by the very public incident. But behind the insanity lies an album of 12 new offerings from one of alternative rock's most enduring forces. Noticeably, "Uno!" doesn't aspire to be a massive political or cultural statement as the band's smash "American Idiot" did. And it's by no means a rock opera but simply the first in what will be a massive collection of new tracks.
"Uno!" has its moments, but one wonders what the next two rapid-fire albums from Green Day will sound like because this one doesn't nearly have the fire of "Dookie" or the grandiosity of the band's last two projects.
A highlight, however, is "Kill the DJ," a surprisingly dance-inspired ditty with a bloodlust. The guitar bounces behind Armstrong's filtered vocals as he commands that someone "shoot the f—–g DJ / hold him underwater 'till that m———-r drowns." Might the song allude to his apparent disdain for popular music and its ubiquity? The Biebs would probably say yes.
A lot of the album sounds like less successful iterations of popular tracks from Green Day's heyday. Luckily, though, there's "Oh Love," the joyous lead single. For someone who sings so much about rebellion and despair, it's nice to hear Armstrong let his lighter side show.
Even hardcore punk rockers want love to "rain on them" sometimes. In "Oh Love," Green Day may have crafted the next song for boys standing in front yards with stereos to woo girls with. It's amorous, well-written and the catchiest thing the trio has come up with in years.
Then there's "Nuclear Family," a commentary on changing family structures; "Let Yourself Go," a riotous, sure-to-be party anthem; and "Angel Blue," yet another quasi-love song. They're all solid, but they leave listeners wanting more of the groundbreaking work Green Day used to do.
Luckily, there are two more albums on the horizon for fans, and we'll just have to see what "Dos!" and "Tre!" will bring. In the meantime, let's all hold our breath and brace ourselves for what Billy Joe Armstrong does next.