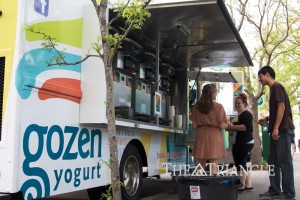 Gozen yogurt is a food truck that focuses on desert rather than an actual meal. Located on 33rd and Arch street, Gozen serves up eight different frozen yogurt flavors that rotate weekly. Also included is a variety of self-serve toppings.
As springtime comes into full bloom, so does every student's craving for something cool and sweet. Luckily for Drexel, Gozen has now provided every student easy access to frozen yogurt at 33rd and Arch streets.
Based on the concept of having frozen yogurt on the go,, the name Gozen was conceived and officially launched under the watch of co-founders Joey Cohen and Michael Neal. The truck's first appearance at Drexel April 16, with temperatures in the high 80s, piqued the interest of many students.
The co-founders were both previously in fashion marketing and wanted to join together to create their own business. Originally hoping to find a standalone store, they discovered that the expenses were simply too high. As a result, Cohen and Neal turned to the food truck industry to make their dream come true.
Well-decorated and very lively, the truck is adorned with bright colors and their own personal logo, specially designed for Gozen.
Another perk of Gozen is its ability to serve fresh frozen yogurt to customers using self-serve machines. Gozen uses the same dispensers you would find in ice cream trucks, but the dispensers are turned around facing the outside to make them accessible to customers.
Gozen offers eight flavors that rotate depending on what is chosen for the day or week. Available for this week were the typical chocolate, vanilla and original tart, along with their more unique sugar-free strawberry, blueberry acai tart, cookies and cream, cake batter, and cappuccino.
In the future, Gozen is planning to expand its collection of flavors to include dairy-free products for lactose-intolerant customers still craving their frozen yogurt fix.
Similar to all other frozen yogurt establishments, Gozen has self-serve toppings. There is an assortment of items to add, including the typical selection of fruit and candies ranging from gummy bears to mochi. I particularly enjoyed their miniature gummy bears in cute spring colors and their mini M&Ms. These toppings also didn't bombard the yogurt with overwhelming flavors.
However, their selection of toppings and yogurt flavors was not as extensive as other competitors, such as Kiwi on the 3600 block of Chestnut Street. Overall, there is not much difference in quality, but it is undeniable that there are more options available at Kiwi.
Both priced at $0.49 per ounce, Kiwi offers an air-conditioned location to sit inside and talk with your friends — that is, if you're willing to walk there. By the same token, Gozen offers an on-the-go frozen treat that allows you to lounge around campus or rush to class.
Overall, Gozen is a nice treat, especially for lazy college students, with its prime location close to residence halls and classrooms. Gozen's hours are still tentative, but it will be an easy and convenient location to get a quick snack to counter the warm weather.
If you are craving something cool and convenient, check Gozen's Twitter or Facebook page to see whether the truck will be Drexel-bound for the day.