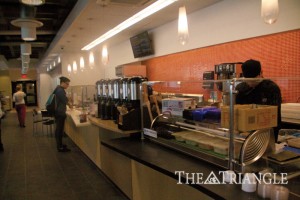 Summer may have come to an end, but there is much to look forward to in the fall, especially at Drexel. The new Market 16 & Noodle Bar opened up Sept. 24, providing us Dragons with yet another dining option. Stacked with all the essential groceries, fresh produce, and a noodle and sushi bar, this cafe is bound to be a hit when it comes to grabbing a quick bite between classes!
Market 16 brings global flavors to campus but is strongly concentrated around an Asian theme. It has a made-to-order noodle and sushi bar with a wide variety of meat and vegetarian options catering to the needs of Drexel's diverse student population. Additionally, it provides quick and healthy grab-and-go food items for busy students and faculty alike. Market 16 has indoor and outdoor seating, providing its customers with an option to relax and enjoy a sushi roll or a hot cup of noodles.
Named after the parking garage's number on the official Drexel campus map, Market 16 also incorporates a selection of vegan, vegetarian, organic, Kosher, gluten-free and Halal items.
"Market 16 looks to be unique. We are not a regular 7-Eleven. We have all the traditional groceries but also have specialty products that are internationally themed like assorted bagels, cereals, chips, a variety of beverages, pad thai, Asian spices and sauces, organic fresh vegetables, fruits, and a lot more," Meg Tighe, Market 16's supervisor, said. "This place is student-friendly and puts forth something different like interaction with the noodle and sushi bar. We are also in the process of discussion for setting up a tea bar."
My friend and I ordered a cup of the mushroom and tofu noodle bowl, which was custom-prepared in front of us and was ready in minutes. The vegetables were fresh, the sauces just light enough and the spices fantastic! The noodles were soft, and the broth was delicious enough to lick the bowl if it was considered polite.
Generally, I prefer meat over tofu, but the tofu was silky and edible. For all the vegetarians out there, I highly recommend this noodle bowl to satisfy your hunger and stay healthy at the same time. In addition, Market 16 has a beef bowl, chicken pho bowl and pork noodle bowl. The 16-ounce size is $7.99, and the 32-ounce is $13.49.
We also decided to try something different called the rainbow sushi roll. It was a California roll topped with assorted seafood. This inside-out sushi rice draped with crab, cucumber and avocado was simply fresh and tasty. For those who love fish, crab and shrimp, this is your sushi. Add a little wasabi, and it's heaven. Maybe spicy heaven. They also have crunchy shrimp roll, eel roll and dragon roll. They range from $5.79 to $6.19.
Rita LaRue, senior associate vice president for Drexel Business Services, added, "Market 16 & Noodle Bar is a concept that I developed specifically to cater to our growing international student population and students' desire for quick, authentic and fresh food items. It was essential to continue to provide space for students, faculty, professional staff and community members to gather in a unique place where they can talk, study and socially interact as they enjoy a noodle bowl with friends or a cup of tea with a colleague."
Come out to the Market 16 & Noodle Bar, which is located at the corner of 34th and Market streets. The new restaurant takes advantage of one of the main streets in Philadelphia and has heavy pedestrian traffic and public transportation access. It is open Monday through Friday from 7:30 a.m. to 10 p.m., and weekends from 10 a.m. to 8 p.m.. To make it easier for the Dragons, they accept Dining Dollars and Dragon Dollars. Go on in with a group of friends to bring out your Asian food taste buds or simply to purchase groceries on a chilly fall day.