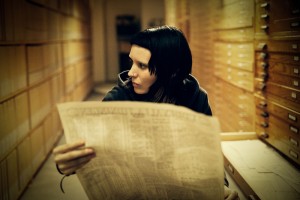 Rooney Mara ("The Social Network") stars alongside Daniel Craig in Columbia Pictures' 'The Girl with the Dragon Tattoo,' released nationwide Dec. 21, 2011.
I usually get nervous when a director takes it upon himself to turn a critically acclaimed book into a motion picture. I have been burned too many times with actors unworthy of their characters, unsatisfactory dialogues and altered plots. However, director David Fincher's film adaptation of "The Girl With the Dragon Tattoo," based on the novel of the same title by Stieg Larsson, fully satisfied my movie palate. The film stars Daniel Craig, Rooney Mara and Christopher Plummer.
The film, released in U.S. theaters Dec. 21 by Columbia Pictures, revolves around Swedish journalist Mikael Blomkvist (Craig) and Lisbeth Salander (Mara), a feminist computer hacker from the wrong side of the tracks. Blomkvist's journalistic career has pretty much gone down the drain after losing a libel case to business guru Hans-Erik Wennerstroem. Henrik Vanger (Plummer), the retired CEO of Vanger Industries, hires Blomkvist to investigate the 40-year-old murder mystery of his niece, Harriet Vanger.
Meanwhile, Salander, who has been diagnosed as mentally incompetent by the state for violent and reckless behavior, struggles with her guardian, Nils Bjurman (Yorick van Wageningen), who turns out to be your average sadistic pervert and has control of Salander's finances. Salander, who conducted an uncomfortably thorough background check on Blomkvist for Vanger, teams up with Blomkvist to discover the identity of "a killer of women."
"The Girl With the Dragon Tattoo" is not a movie for the faint of heart. Do not walk into the theater thinking you're in for an 'innocent' murder mystery. This film is extremely graphic, living up to its R rating. While it is graphic and not for little tykes who would probably rather see a movie with talking chipmunks, "The Girl With the Dragon Tattoo" is a thrilling roller coaster of plot twists, romance and enough suspense to go around.
Everybody knows the dashing Daniel Craig thanks to his portrayal of James Bond in "Casino Royale" and "Quantum of Solace," and I believe he does Blomkvist justice. While I was not picturing Craig's face as I read the novel, I was not disappointed with Fincher's choice. Less familiar in the movie scene is Rooney Mara, who you would probably recognize from "The Social Network." Lisbeth Salander is, in my opinion, one of the most complex fictional characters in literature, so portraying her in a film is no easy feat. Mara flawlessly transformed herself from a posh sweetheart to a mohawk-wearing, motorcycle-riding, dragon tattoo-bearing misfit whose grandmother would probably want to wash her mouth out with a bar of soap. After successfully channeling Lisbeth Salander, expect to see more of Mara.
The only actor who did not seem right for the part was Stellan Skarsgard, who portrayed Martin Vanger, Harriet's brother. Skarsgard's acting did not seem to flow as naturally as Mara's.
The novel consisted of two storylines for a good part of the story, until Blomkvist and Salander's lives co-mingle. Fincher did well in telling the story of these two characters without neglecting one while favoring the other. Thus, Flincher stayed true to the book, except for a few minor changes that fans of the book would not find disgraceful.
What truly captured me was the soundtrack, created by Trent Reznor and Atticus Ross, who had previously worked on "The Social Network" soundtrack with Fincher. The song that stands out is Reznor and Ross' cover of Led Zeppelin's "Immigrant Song," featuring the vocals of Karen O, which plays during the introduction. The cover is accompanied with intoxicating graphics of Blomkvist, Salander, various movie scenes and even a magnificent dragon, which all appear to be covered in tar, awaiting the flames and giving the audience a taste of what is to come. Reznor and Ross' band, How to Destroy Angels, covers "Is Your Love Strong Enough," which plays during the credits and is featured on the soundtrack. The rest of the soundtrack offers eerie and blood-pumping songs that perfectly match the film's disturbing nature.
"The Girl With the Dragon Tattoo" was previously adapted into a Swedish film in 2009 by Swedish director Niels Arden Oplev. The film starred Michael Nyqvist as Mikael Blomkvist and Noomi Rapace as Lisbeth Salander.
All in all, "The Girl With the Dragon Tattoo" did not fail to impress. Fincher managed to get inside Larsson's head, bringing to life a phenomenal novel and keeping viewers on their toes. Sony Pictures Entertainment and Columbia Pictures have decided to go ahead with development of the trilogy's second and third installments, titled "The Girl Who Played With Fire" and "The Girl Who Kicked the Hornet's Nest," respectively. Get ready to be submersed in a world of mystery, suspense and graphic darkness.