"Some Nights," the newest album by fun., was released Feb. 21, and to no one's surprise, it amazes anyone who hears it. Opening the album differently than any other I have ever heard, with the addition of a chamber choir, "Some Nights" brings us back to the unique sound in the beginning of the album, which fans will appreciate.
"We are Young," the commercial megahit, leaves fans stunned, as lead singer Nate Ruess hits one of the highest notes attainable.
"Carry On" leaves nothing to the imagination. It begins with an abrasive and clearly talented choir and brilliant melodic lines with African tribal accompaniment. This song builds up anticipation for the coming musical parade so that you can't help but listen to more.
The track, "It Gets Better," doesn't necessarily live up to its name, if only because it is difficult to follow "Some Nights." "It Gets Better" just doesn't stand out as a true fun. song. Instead, the overblazed auto-tune and repetitive percussion set overpower the lyrics and melody, which could have stood on their own.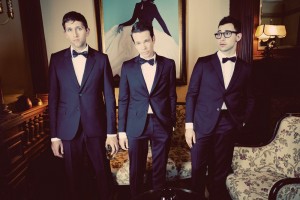 Leaving the short-lived hard rock era, fun. brings us into a beautiful, sweet-sounding song called "Why Am I the One." Anyone with a musical ear would agree that this track showcases the sound of fun. that we have all come to know and love.
The track "All Alone" is anything but the melancholy name it portrays. It expresses exuberant sounds with a hip-hop-rock beat behind, yet again, another brilliant fugue. The addition of an electronic synthesizer makes this already complex sound transition into yet more genres than it began with.
"All Alright," has a generic filler vibe that does not stand with some of the other big house hits. However, even the tracks that don't shine have lots of potential and will garner admiration from dedicated fans.
"One Foot" takes on a whole new level, starting with horns and impressively sustained high notes by Ruess, formerly of The Format. This made-for-radio hit is a catchy bounce of ska undertones with a slow, melodic line, making it a sweet mix into the album.
Of the remaining two songs, "Stars" does not quite shine, but the bonus track "Out on the Town" ends the album on an emotionally charged note.
"Some Nights" reigns above many other albums in today's music repertoire. Fun. offers impressive lyrics, memorable melodies and fantastic production. It creates a satisfying mix of music that anyone would be delighted to hear. Fun. continues its assent in the music industry with new tour dates, more hits on radio and television, and a recent appearance on "Conan." So through the words of fun., "Let's set the world on fire." Fun. has made something that can stand on its own and say to the world, "Let's bring some fun back into this industry."