Drexel's own freshman dance ensemble marked the weekend of Jan. 26 with the annual FreshDance Winter Concert at Mandell Theater. This time the freshmen dancers performed "New Episode," a performance consisting of five pieces, diverse in their styles and atmospheres.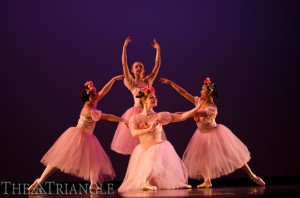 FreshDance is an ensemble open solely to freshmen in order to provide performance opportunities and deeper understanding of dance to everybody, regardless of their major.
This winter's "New Episode" was a blend of contemporary, classical and modern dance. The five different pieces did not seem to be interconnected, and switching between different styles and tempos as the performance proceeded was supposed to bring a change of mood. As the ensemble's mission states, it is an expression of the belief that "all genres of dance are valid avenues for development."
One can go about developing his or her understanding of dance in FreshDance in different ways. Firstly, each of the pieces in "New Episode" tells a story. There is "The Heart of The Matter" by Drexel dance program director Miriam Giguere, which is about the importance of people who accompany us throughout life. There is also "I Awoke to Find Myself Standing in the Rain" by Meredith Rainey, which is about suddenly realizing how our lives have led us to where we are standing now. Freshman mechanical engineering major and dancer Charles Pildis, when asked what the piece signifies to him, said:
"We've all had at least one point in our lives when we get so caught up in moving forward that eventually the present hits us like a brick wall, which can be scary."
Finally, there is "Somewhere I Have Never Traveled" by Mina Estrada, a dance based on a romantic poem by E.E. Cummings, where the poet compares his feelings for a woman to rose petals. "Pas de Quatre" by Jules Perrot is a classical composition written in the late 19th century for the most prominent ballerinas of the Romanic Age and is one of the works that break the mood of the entire performance. Clearly, the intertextuality of dance and poetry, as well as using dance as a means of storytelling and allusion, encourages students to experience dance as a form of art.
Secondly, the ensemble provides students with opportunities to learn how to choreograph. All the works mentioned above were choreographed or reconstructed by Drexel's faculty members. The last one, titled "CHAIRish," was a chance for students to try their own choreographic skills. In the end, senior dance majors Claire DeLiso and Kathryn Porkka came up with a goofy, feel-good dance to the "Crazy Frog" tune with a sequence of movements imitating a person sitting on a chair, which is ultimately about cherishing life.
In a natural manner, some performances were better than others: Drexel is not a ballet school, and thus it was the classical dance part that turned out to be the weakest. Yet a point worth remembering is that even a technical college like Drexel has a community of artists, and it's always great to see opportunities for them to embrace their artistic interests.
"Being a mechanical engineering major, I feel privileged that Drexel still allows me to perform as a dancer," Pildis said.
And it is truly fantastic.