I like Asian food and culture, including bubble tea, pineapple buns and sushi, so naturally I love Chinatown. I'm from New York, so comparatively speaking, Philly's Chinatown is considerably smaller than New York's and not conveniently next to a Little Italy. However, what it lacks in size, it makes up for in quality. Philadelphia Chinatown is authentic, lively and filled with amazing restaurants. Situated only a couple blocks from Reading Terminal Market and the Pennsylvania Convention Center, the location of this Chinatown is seemingly perfect.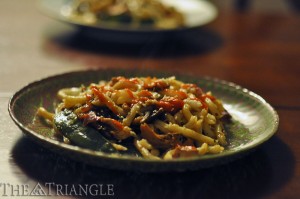 If you want to "leave" America for a couple hours, take a stroll around Chinatown and be sure to stop in a Chinese market. You'll likely see things you've never seen before, and unless you speak and read Chinese, you won't know exactly what everything is in the store. My advice to you is to be daring and try something new. I know they say don't judge a book by its cover, but when I was in the candy aisle I couldn't really help it. I bought a couple Asian candies based on the pictures of what they were. In an interesting and delicious kind of way, they turned out to be unlike any American candy I'd ever had.
While visiting Chinatown, I was on a mission to buy authentic spices and sauces to make one of my favorite Asian dishes — udon noodles.
Udon noodles with spicy soy teriyaki garlic chicken, hoisin sauce tofu, ginger plum chili onions and a medley of vegetables, including green and orange peppers, snow peas and mushrooms in a teriyaki sauce.
Servings: 3
Ingredients:
For the chicken:
½ cup soy sauce
¼ cup teriyaki sauce
½ tablespoon minced garlic
½ pound chicken breast
Add all the spices and sauces to thawed chicken and allow it to marinate for at least three hours.
Cook the chicken in its own pan, and while it's cooking, shred the chicken with a fork and knife. Cook the chicken thoroughly until it is white throughout.
For the onions:
1 medium-sized onion
2 tablespoons plum sauce
1 tablespoon sweet chili sauce
1 tablespoon freshly chopped ginger
Chop the onion into small pieces. Add a little bit of olive oil to a pan, put it on a medium setting and add the onion. Allow the onion to cook for approximately five minutes, then add all the sauces and ginger and cook until onions are crispy on the outside and soft on the inside. Be careful while taste testing for assurance.
For the vegetables:
½ red pepper
½ green pepper
½ orange pepper
½ cup mushrooms
1 cup snow peas
½ cup teriyaki sauce
1 teaspoon red pepper flakes
Chop the peppers into small pieces and dice the mushrooms. Put all the vegetables in a pan with a dash of oil and 4 ounces of water. Cover to steam for approximately five minutes to quicken the cooking process. Uncover and allow to cook through. When the vegetables are almost done, add the teriyaki sauce and pepper flakes for flavor.
For the tofu:
½ cup diced tofu
2 tablespoons hoisin sauce
Mix the hoisin sauce with fresh tofu. Add the tofu to the mixed vegetables at the same time you add the teriyaki sauce.
Cook three 7-ounce packets of fresh udon noodles as directed on the packet. Be careful, as udon noodles cook significantly faster than regular pasta (my packet took about three minutes).
After everything is ready, mix all the previous ingredients into the noodles. Sprinkle with sesame seeds and add Sriracha sauce for extra spice if wanted. Enjoy!