Do you find that your eyes are drawn to a specific appetizer on a menu every time you eat at that restaurant? If no one you're with wants it as an appetizer, do you order it as your own dinner? For me, that dish is Thai chicken lettuce wraps. They're healthy, light and extremely flavorful. The Cheesecake Factory and P.F. Chang's serve my favorite lettuce wraps, and I highly recommend them!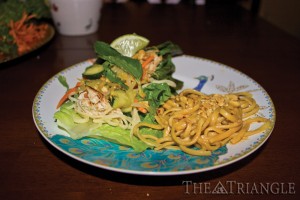 After having them at so many different restaurants, I've adapted my own recipe. I make coconut and honey-marinated chicken, spicy cucumbers, coconut curry egg noodles, shredded carrots and cabbage with lime juice, plum sauce bean sprouts, red pepper flake peanut sauce, bits of cilantro and mint, and freshly squeezed lime.  It involves much preparation, but the taste is well worth it.
For the Chicken:
1 pound thin cut chicken breast
½ can coconut milk
5 tablespoons honey
½ tablespoon lemon pepper
Mix the coconut milk and honey. After marinating for at least three hours, cook the chicken until it is white throughout.
If you want to make these last minute, cook it with the marinade and add a little extra marinade when the chicken is almost done cooking. This will give you the infused flavor without the prep time.
For the spicy cucumbers:
If you've ever been to Han Dynasty, you have to get the spicy cucumbers. It's a must. Caution, though: the name is a huge understatement. It should really be called "tremendously spicy cucumbers." This is a recipe I customized based on their taste, but no worries — it's not too spicy.
1 cucumber
4 tablespoons rice vinegar
1 tablespoon peanut oil
1 tablespoon sesame seeds
½ tablespoon sugar
½ teaspoon red pepper flakes
Cut the cucumber lengthwise twice to create four even pieces. Then thinly slice the cucumber widthwise. Mix all of the ingredients for the sauce together. Allow at least half a day in the refrigerator for the cucumbers to pickle in the sauce.
For the coconut noodles:
Because the coconut flavor of the chicken is often lost when cooked, I like to add coconut noodles to my wraps. The Cheesecake factory's Thai lettuce wraps have a noodle similar to this.
6 ounces fine egg noodles
¼ can coconut milk
1 tablespoon brown sugar
½ tablespoon green curry paste
½ tablespoon curry powder
1 pinch of salt
Cook the egg noodles and drain. These are served cold, so run the noodles under cold water to cool them down even quicker.
Stir all of the ingredients together for the sauce until it has a saucelike consistency, and add it to the noodles.
For the bean sprouts:
2 cups fresh bean sprouts
1 tablespoon plum sauce
2 tablespoons soy sauce
1 tablespoon hoisin sauce
Bean sprouts lose their crunch with sauce, so be sure to make them right before you want to serve the meal. Making these is simple — just mix all the ingredients!
Spicy Peanut Sauce:
This is a great sauce for the wraps and can also be served with the noodles. I like to add the sauce to linguine noodles and serve it as a side dish!
2 tablespoons peanut butter
½ tablespoon red pepper flakes
3 ounces of water
½ tablespoon garlic
½ tablespoon Sriracha sauce
3 tablespoons crunched-up peanuts
Thin the peanut butter by adding water and stirring, then add in all the components.
Butter lettuce and iceberg lettuce work well as wraps, but you can really use any preferred variety of lettuce.
Now you're ready to make wraps! Add all the ingredients in any order and any quantity you'd like on the lettuce. Add fresh cilantro, mint and crushed peanuts, and squeeze a lime for the full effect!