At Drexel, lunch trucks seem to dominate the campus. We have a myriad of gourmet trucks near Buckley Field, and the typical "grease trucks" spread out throughout campus. What college student doesn't like to revert to quick, convenient and cheap food?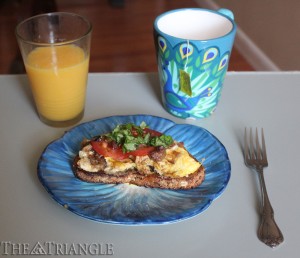 I can't deny my love for Cucina Zapata or the fact that I've picked up countless eggs and cheese on everything bagels from the many lunch trucks serving breakfast. However, an egg sandwich made at home can be healthier, more affordable and tastier. So when you're not in a rush, I challenge you to take your health into consideration and make your own breakfast!
This recipe is a great opportunity to use those leftover ingredients that have been sitting in your fridge for too long. For me, I was able to incorporate leftover cooked veggies from the previous night's dinner. Putting leftovers in omelets makes for some of the best breakfasts and minimal food waste!
Egg omelet with brie, cooked mushrooms and onions, fresh tomatoes and basil, topped with balsamic vinegar on toasted bread
Ingredients:
½ tablespoon olive oil
¼ cup minced onions
¼ cup minced mushrooms
Greek seasoning
Cumin
2 eggs
1 tablespoon milk
1 ounce brie
Little bit of butter
¼ small tomato sliced
2 fresh basil leaves
½ teaspoon balsamic vinegar
1 piece of bread
On medium heat, warm olive oil in a pan. When it starts to bubble, add the minced onions and mushrooms; add a pinch of Greek seasoning and cumin while the veggies are cooking. The smaller you cut up the veggies, the faster they will cook. Cook them thoroughly until the onions have browned. When the vegetables have finished cooking, remove them from the stovetop and put them to the side.
Whip up the eggs, add the milk, and add a pinch of Greek seasoning and cumin. The milk will make your eggs fluffier. Put your bread in the toaster.
While the bread is toasting, heat a pan on medium-to-high heat with a small wedge of butter. Add the whipped eggs when the butter is melted.
Allow the eggs to solidify in the pan, then add the cooked vegetables and brie to half of the eggs. Once the cheese has melted, flip over the portion of eggs without veggies onto the portion with veggies.
Add a smear of butter to your toasted bread, place the omelet on the bread, top it with freshly sliced tomatoes and basil, and sprinkle half a teaspoon of balsamic vinegar over everything. Add salt and pepper for taste.
*ForkU tip: Buy a basil plant! They are the easiest plants to keep alive besides cacti. They'll also keep your kitchen smelling fresh. Plus, you can grab one at Trader Joe's for as little as $4.