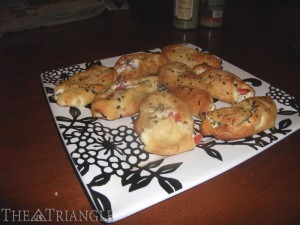 As the sisterhood chair of Delta Phi Epsilon, I plan fun events for our sisters. This past weekend I planned a potluck picnic at Kelly Drive. It seemed like the quintessential outdoor weekend activity, perfect for the end of the summer. The perfection was dampened when Mother Nature got in the way and decided to rain on our parade. The overcast skies and drizzle called for a quick change of plans and led to an impromptu potluck movie day instead! Some snuggling on the couches, pausing of the movie for quick conversations, and good food was a relaxing way to spend a cloudy Sunday.
For the potluck, I brought a fruit salad. I chopped a watermelon in half and put the fruit salad right in the hollowed-out middle. I squeezed fresh lime over the fruit and topped it all with fresh mint. Adding lime and mint is a great way to add some flavor to a traditional salad.
Potlucks are a great way to learn about cooking and what your friends like to eat! At these events, food is obviously a great topic of conversation. When people bring their own dishes, they talk about how they made them, where they bought their ingredients, and what else you can do with them.
From this potluck, I learned from a friend the deliciousness, simplicity and versatility of Pillsbury dough. She made this amazing cream cheese and roasted red pepper miniroll. It inspired me to think about different flavor combinations, which is how this dish was created:
Minced Onion and Basil-Spiced Ricotta and Tomato in a Croissant Roll
Servings: 8
1 package of Pillsbury croissant rolls
1 diced tomato
1 cup whole milk ricotta cheese
2 teaspoons basil
2 teaspoons minced onion
Heat the oven to 350 degrees Fahrenheit.
Take the croissants out of the package and place them on an ungreased baking sheet (if you use another brand of dough, be sure to follow package instructions with regard to greasing the pan).
Spread approximately 1 1/2 tablespoons of ricotta cheese onto each croissant. Top with the diced tomatoes. Sprinkle the basil and minced onion over the cheese and tomatoes. Roll up the croissants.
Bake for 12 minutes or until golden brown.