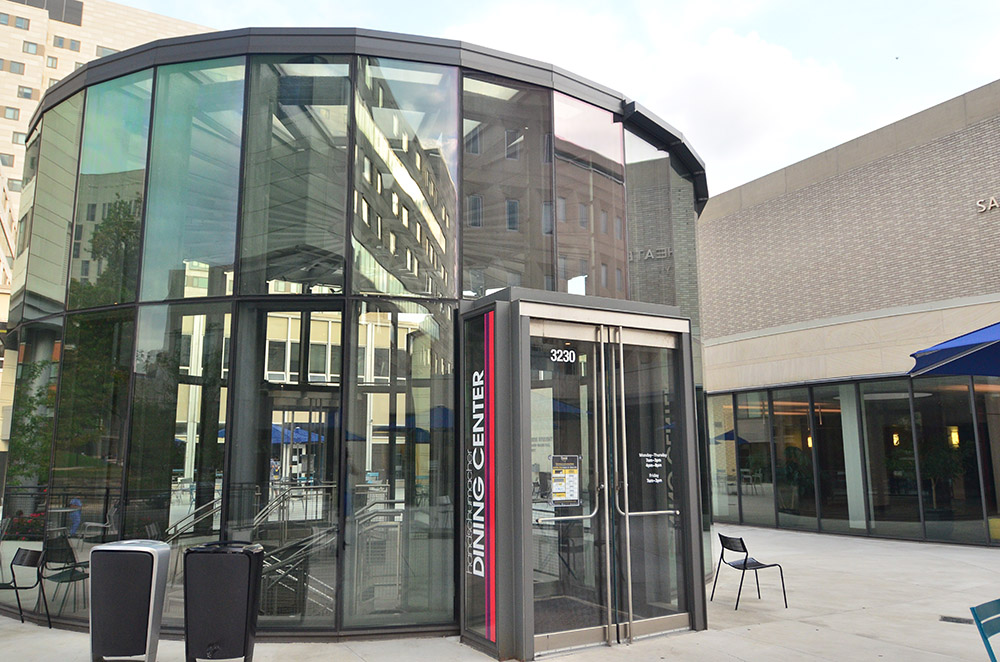 As new students gear up for their first fall at Drexel University, inevitably they will end up at the Handschumacher Dining Hall. Perhaps it will be convenient at the time, or Urban Eatery is too crowded, or they will want to "go out" without spending extra money. It's a safe enough choice, with those obligatory meal swipes and all. But, for many new students, the Hans will be an enigmatic entity. Drexel didn't showcase the dining spot the previous tour year, and it was closed during summer tours. So what should students look forward to?
First and foremost, it's impossible to miss the Hans while in Chestnut Square. Everyone notices the large cylinder in the middle of the plaza with the huge fan whirring away inside. That's the upper mast of the Hans, a beacon to pull Drexel students in. There are no other ways into the dining hall; the Creese basement entrance is walled off, and students are not allowed through the staff entryways. If a student cannot go down the cylinder's stairwell, they're straight out of luck. For those who can, they will not see the dining hall proper until the second landing.
Students have to swipe in at the front desk before they can take part in the all-you-can eat buffet. And no, students cannot swipe in friends with their meal swipes. Students also cannot use it as a free study spot. By the 2016-2017 school year, previous years of freshmen have already abused those loopholes to smithereens.
Once in the kitchen, students will see the various serving stations. The morning spread includes homestyle breakfasts, omelettes, breakfast sandwiches, the breakfast pizzas nobody likes and a manual waffle maker. For vegans, there's a fruit bar. Towards the back of the dining hall there is a separate station that will have pastries and coffee. Students should be careful over there. The metal under the pastries is super hot to the touch, and the coffee machines sometimes overfill the cups.
Breakfast at the Hans tends to be pretty good, all things considered. Unfortunately, they like to use sausage as the homestyle meat selection most of the week and most students don't want to be up and about from 7 to 9 a.m., which is when it's easiest to get breakfast. In the past, by 10 a.m. it would be slim pickings. True, it would be faster and easier to get breakfast at Urban, but the lack of foot traffic at the Hans makes it a gem. If a student has a class ending at 9 a.m. and some time before class, they should check out that breakfast scene.
At 11 a.m., lunch starts. Lunch is when it gets tricky; the best time to go is before noon. All the food is out and fresh, and there is little competition. Between 12 and 1 p.m., forget it. The Hans tends to be a bit of a ghost town most of the day, but noon is their rush hour. Avoid it at all costs. Then, from 1 p.m. to closing time at 3 p.m., service is spotty. Most of the food has been eaten, and they only have to stay restocked for another hour. A student should expect to compromise during this time.
The dining hall shuts down from 3 to 4 p.m. to set up for dinner, although it really is just a break for the staff. Some stations may change what they serve between lunch and dinner, but the same stations will be open, and some stations will serve the same food that they did during lunch. It will also be at the same quality. Traffic picks up around 6 p.m., and the dining hall closes at 8 p.m.
As for the food itself, lunchtime and dinner stations include pizza (Dante's), pasta (Dante's), Asian (Asian station), burgers (The Grill), International (Passports 500), homestyle selections and vegetarian. There is also a soup and salad bar. The pizza is fine, especially when fresh. On slow days, however, it will be left out for a couple of hours until it's gone before they put out another. The burgers, in years of yore, were pretty excellent. It's still great to watch the grill's flames, but the people who worked the grill for the past year don't know how to grill burgers. Maybe it will be different for the new year, but it's possible the burgers will be burnt. At the grill students can request grilled cheese as well.
The Asian station is okay, though anyone who's used to Chinese delivery will quickly learn that the way they make sweet and sour chicken is completely different from the fast food variety. Sometimes they also have vegetarian options of their fried rice. It is not consistent from day to day, however. Students should expect lines at this station, since the food there is often rather popular.
Homestyle rotates their selections, so a student should expect variety but not a lot of consistency. The people working that station tend to be very nice, though.
Passports 500 also rotates their selections, although on Wednesdays they turn into a waffle bar.
The soup and salad bar is also decent, though sometimes the soup selections can be super salty. It would be best to sample the soup before getting an entire bowl. That bowl also will likely be plastic; in the past year, the dining hall switched out metal utensils and glass eating ware for disposable, plastic varieties. This makes it easy to burn people's hands. Also with all the disposables, one should keep this in mind: the cups by the milk stations are undersized. Use the cups by the bakery instead.
In the back, where the morning pastries are, there are dessert selections during lunch and dinner. There is even ice cream! The desserts are good, especially compared to previous years. There can be brownies, cookies, cake, pudding, pie and the like! Their gelatin isn't very good, but everything else is nice. If a student won't get the Freshman Fifteen anywhere else, they will from this station alone. Behind this station is a soft drink fountain, too.
Hans fare is, in a nutshell, okay; one can easily get better if they're willing to spend more money. We can't all spend $5 on Shake Shack every day, though. As obligatory dining, the Hans is not much worse than other colleges. Students will probably not want to live on Hans or Urban food from day to day, since the quality never changes, but they're an okay diet staple. They're at least trying to have a food variety in there, and people from almost every food taste can find something.
But if the burgers are disappointing… don't be surprised.