A life-changing event occurred at the Wells Fargo Center July 30. The Femme Fatale tour, staring Nicki Minaj and Britney Spears, breezed its way into Philadelphia. Playing to a sold out crowd, the show started at 7 p.m. with Nicki Minaj as the opening act. This time around, the "Pink Friday" singer was Spears' partner in crime. Minaj performed some of her well-known songs, such as a crowd favorite, "Super Bass," as well as mash-ups of her cameos in "Bottoms Up" and "Where Them Girls At." One crowd pleaser was when she did her piece from Kanye West's song "Monster." Don't get me wrong, I am a Nicki fan, but let's be real – I was there to see Britney. Minaj performed for about 40 minutes, then the 45-minute countdown until Britney Spears hit the stage began.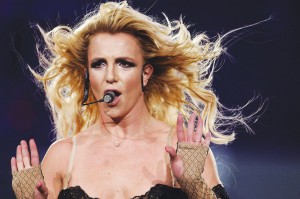 Britney Spears performed at the Wells Fargo Center July 30 wih special guest Nicki Minaj. The pop star sang seven songs off her latest release, "Femme Fatale," including "Hold it Against Me" and "Till the World Ends."
From previous experiences I have noticed that whenever you are at a Britney Spears concert and you hear her famous tagline, "It's Britney Bitch," you know the "Toxic" singer isn't far behind. Opening with "Hold it Against Me," Britney performed seven tracks off her newest album "Femme Fatale" and some old hits that included, "…Baby One More Time, "I'm a Slave for You" and "Don't Let Me be the Last to Know." While most songs were lip-synced, there were a few that were noticeably Spears' real singing voice.
Many media outlets have been discussing the dancing portion of the Femme Fatale show. Some have stated that Spears' dance skills weren't what fans were used to seeing her dish out. While Britney's dancing isn't the same as it was when she was 16 years old, she still gave her all to the fans. "If she had a knee injury, it wasn't obvious and it didn't take away from my experience," India McGhee, a fellow attendee, said.
After performing "How I Roll," complete with a dance number on a pink car, Spears asked for a volunteer from the audience. Our entertainer for the evening brought a young man on stage and made his dreams come true. Spears give this man a lap dance! After seeing that, I made the decision that she's still got it. In another attempt to interact with the crowd, during "Womanizer," Spears invited a dozen or so fans on stage to dance with her. In all honesty, she looked pretty frightened at that point.
There was an interestingly odd storyline connected with this concert. I'm still having trouble deciphering what message Spears was trying to send. While she was changing her wardrobe, the screens above and around the arena showed a man in search of the star of our show. One quote this mysterious man uttered, "Bring your best game, because tonight you and I are dancing a vicious dance." While this man never appeared on stage, the point behind this was a lost on me. In the last part of the story, we saw Spears preparing to attack this man. In my opinion he may have represented Spears' constant struggle with the media.
As for the best song that Spears sung live, I'd have to go with "Don't Let Me Be the Last to Know." It was her real singing voice and they placed her on a swing high above the audience. The best song of the entire show was "Till the World Ends." It was the closing song and the audience got to chant "Woah oh oh oh oh oh ohhh." It broke into the remix featuring a video version of Nicki Minaj which was slightly disappointing since Minaj was obviously at the concert venue.
While the words "Britney" and "singing" in the same sentence still incite some controversy, when you watch her on stage it's hard to look away. She captivated the audience with the entire experience. I'm still in pain from my performance in section 203. Obviously, she has been through some bumpy spots, but Britney has and always will come out on top.