London's Fanfarlo played March 8 at Union Transfer in support of their thoroughly enjoyable second album, "Rooms Filled With Light." It was a fairly large step up in terms of the size of venues that they had played previously (the band described Union Transfer as "the nicest place we have ever played"), but they were still able to, for the most part, play a highly entertaining and rather fun concert.
Opening for Fanfarlo was Chicago's Young Man, primarily the vehicle for lead singer and guitarist Colin Caulfield's songwriting. Their set had a hazy, dreamlike quality to it — noodly guitar riffs interplayed between one another as an extremely talented rhythm section set a foundation for sonic experimentation, with airy synthesizers and samples of people talking placed on top for added texture. The band was just as talented as their music was ambitious, with guitar heroics sidling up next to drastic tempo and stylistic changes. They were extremely impressive and definitely a band to look out for.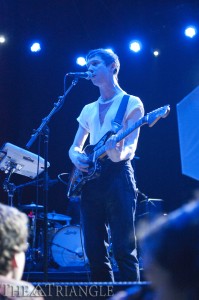 After Young Man, Fanfarlo's cavalcade of adorable sweetness  and diverse instrumentation (Horns! Violin! An old looking bell!) took the stage. However, all was not well. Their first couple songs were decidedly shaky and also riddled with technical problems. After lead singer Simon Balthazar's guitar cut out near the end of their second song, the band stopped to try and fix the problems plaguing their setup. However, instead of frustration at their misfortune, they were all charm, keeping the audiences entertained with banter and witticisms. Keyboardist and vocalist Cathy Lucas described a particularly jarring noise that emanated from the PA in the middle of trying to fix the sound as "avant-garde electronic music."
From there, the band was able to gain momentum. As technical problems ceased to be an issue and their lighting rig started to work (a hexagonal screen that was later projected upon was left conspicuously blank for the first few songs), an increased confidence seemed to come over the band. They played with renewed vigor and enthusiasm. Simon Balthazar's impassioned warble was reminiscent of Beirut's Zach Condon or Arcade Fire's Win Butler, two vocalists whom one would appreciate being compared to. In addition, Fanfarlo's cornucopia of instruments and high-minded ideas definitely showed influence of the aforementioned two bands. However, they also displayed a more down-to-earth poppy charm, with boy-girl vocals bouncing back and forth and upbeat melodies providing a bit of grounding from the more ambitious ideas. There even seemed to be some new-wave influence as synthesizers interacted with brass and strings, a dichotomy that proved to be distinctly Fanfarlo and rather successful (this slight electronic bent came courtesy of their second album, which saw the group expanding their musical palate to some extent).
As the show was coming to a close, Fanfarlo had clearly won over the crowd, which had become just as enthusiastic as the band. While they may have had something of a slow start, they more than made up for it with a musically diverse but genuinely fun show. They had a zeal that was absolutely infectious, and while their influences could at times be rather apparent, they proved that they are both eager to seek out new and different sounds and deliver them in a spirited, energetic manner.