If Garry Ross' "Pleasantville" was a piece of anti-nostalgia spearing mid-20th century values in television, then that makes Randy Moore's "Escape from Tomorrow" a satire of the all-powerful and omnipresent Disney brand (which is the proud owner of Pixar, Marvel Entertainment and Lucasfilm). The fantasy-sci-fi-mystery-psychological-horror film (in limited release Oct. 11) is a movie that defies all logic and convention of storytelling that we are all used to seeing on the silver screen. The film was shot guerilla style in the parks of Walt Disney World and Disneyland without any permission from The Walt Disney Co. This was accomplished with handheld cameras, planning months in advance (mostly for lighting purposes), having rigorous rehearsals, and keeping scripts on iPhones. The crew even went on certain rides multiple times in order to get the scenes just right. Moore was so concerned about keeping his work a secret from the company that the writer/director edited the project in South Korea. Full of surrealism, trippy (often unsettling) images and a neo noir vibe, a better title might have been "Acid Trip."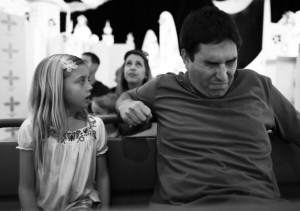 The plot focuses on a family trying to enjoy its last day of vacation at the Walt Disney World Resort. As the day progresses, a recently fired father, Jim White (Roy Abramsohn), begins to experience terrifying hallucinations and encounters, almost all of which are sexual in nature. His character is very similar to Kevin Spacey's Lester Burnham in "American Beauty." After that, you're on your own because nothing really makes sense in this movie beyond the basic dysfunctional family plot. All the familiar places like the Magic Kingdom and Epcot are in place, but Moore seems so busy showing us how he duped Disney that he forgot to stitch together a coherent story. At times, it's jerkier than the rides in the amusement park setting, borrowing a little something from every genre out there. If you enjoy robot scientists, attractive Parisian girls and sex-crazed witches, then this is the movie for you.
Like the New Wave French filmmakers of the '50s and '60s, Moore casts off established techniques and embraces the taboo to create something entirely unique in the wake of European art cinema. In a way, it makes the movie more of an experiment than anything else. This doesn't mean that the shots aren't beautiful and ingenious as your childhood is ruined by conspiracy theories of costumed princesses being prostitutes for wealthy Chinese businessmen. Many may find the movie disturbing because of is its juxtaposition of sexual images with the purity and innocence associated with the Disney name. All the while, Abel Korzeniowski's light score really captures the essence of wonder that Disney has built an empire on, lulling viewers into a false sense of security.
It's often hard to remember that "Escape from Tomorrow" was shot with handheld equipment on location, as each image is crisp in its black-and-white format that harkens back to the old-fashioned movies that are constantly playing on Turner Classic Movies. With its dreamlike quality and shocking reveals, it may remind one of Rod Serling's 1960s anthology television series "The Twilight Zone." Still, the film is way more provocative in every regard, as the director successfully strips away the sentimentality of it all while paying homage to German expressionist cinematography and the film noir genre. What should be a delightful and memorable family excursion turns into a nightmarish world of sex, uncertainty and devious machinations. Whether the overall message is that the so-called "Happiest Place On Earth" is not even safe from the harshness of reality or a warning about the "terror of ubiquitous entertainment" (according to the Sundance Film Festival, where the movie played for the first time last year), one can surely agree that it is a beautiful piece of ambitious moviemaking. Non sequiturs aside, it's hard not to admire the chutzpah and flashes of brilliance that went into making it.
While the fear of legal issues made many critics doubt that the movie would be shown to a wide audience, it is now on iTunes for all the brave to enjoy. After watching you may ask, "What the hell did I just watch?" The movie is less "Inception" and more Salvador Dali, but if you're looking for something more family friendly, then you'll have to wait for "Saving Mr. Banks" (out Dec. 13), which dramatizes the Disney Studios production of 1964's "Mary Poppins" with Tom Hanks playing Walt Disney himself. However, if you do choose the former, then good luck looking at Mickey Mouse the same way ever again.