Stephen Starr never fails to impress. I've been a huge fan of his restaurants since coming to Philly, and I become excessively excited and even proud every time I visit one of his places. This is partly because the costs of said visits make them infrequent; his restaurants are not outrageously expensive and unaffordable, but they are definitely higher than what a college kid wants to spend on a regular basis. The way I see it, Starr restaurants are lovely for date nights or special occasions with the BFFs.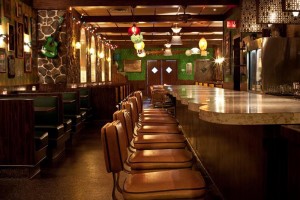 That being said, my boyfriend and I decided that we hadn't splurged in a while (in terms of food, for us that's about a week), so we started weighing our Starr options. Collectively we had already tried El Vez, The Continental Mid-town, POD, Parc and The Dandelion Pub, so those were off the table. Then, considering that I crave Mexican food on a daily basis, we narrowed our choices down to one: El Rey.
Because El Rey is located at 2013 Chestnut St., I have walked past this place countless times on my way to Rittenhouse Square and Center City, but I only just realized this when we went to eat there the other night. It blends right into the surroundings! Not to mention that it doesn't even look like a restaurant, let alone a Stephen Starr one!
Granted, there's a large vertical sign out front, but all you can really see is the word "RESTAURANT." For some reason, I immediately relate that style of signage to Italian cuisine, something more appropriately placed in the Italian Market; it seems old school, traditional. Aside from that mounted sign, the only other designation was posted on the wall, so I would have had to turn my head to see it. And let's be honest, that's just asking too much of me. What's more is that this sign is what you would find outside a concert venue; actually, it's exactly the same type as that for the Theatre of Living Arts.
Think of the sign in front of a library or your elementary school: a white background with the block letters that have to be inserted from the side. That's it, showing "El Rey El Rey El Rey El Rey." Now that I write about it, I don't know why it's taken me so long to realize that this place was, in fact, El Rey.
Well, it's better late than never, especially in the case of this restaurant — El Rey is superb. For one, the interior decor is just as unexpected as the exterior appearance. It could have come straight from "That '70s Show," for all I know, with eccentric wallpaper, a marbled laminate countertop as the bar, pleather seats, vintage lamps and light fixtures, and wooden accents. It is elegantly retro in a way that I imagine only Stephen Starr can pull off for a restaurant. It is really a hipster heaven.
The amount of young, trendy adults eating at El Rey admittedly surprised me; I assumed a restaurant of this price range would discourage people in that age and style group. Once I saw the happy hour deals, though, and took my first bites of food, I was no longer shocked. This is a place worth budgetary exceptions. Many exceptions.
To start, my boyfriend and I ordered a $3 shredded chicken quesadilla. For a quesadilla, it was terrific — but it was just a quesadilla, and a small one at that. In fact, it was so small — or at least small in terms of our oversized perception of portions — that we also ordered chips and salsa. I'm a sucker for homemade fried tortilla chips and not too picky when it comes to salsa. This one was refreshing; the freshness of the tomatoes perfectly balanced the spiciness of the peppers.
The chips and salsa came in handy later during the meal as well, particularly for my dish. I ordered the alambre de pollo with refried beans, and my boyfriend got the short rib enchilada. Mine was way better. Don't get me wrong, I love a hearty enchilada, and his was nothing short of that with a flavorful salsa roja and beautifully cooked short rib. But I preferred mine because it was different than any other Mexican dish I've had and it was also tastier.
I tried looking up the meaning of "alambre" with regard to Mexican cuisine. I came up with nada, but because the menu's description read "guacamole, chicken, mushroom, bacon, poblanos, onion, habanero cheddar, flour tortillas," I figured it would be worth a shot. Oh yeah, it was worth it. The plate was divided into three sections by the food itself: guacamole; refried beans; and the most wonderful concoction of chicken, cooked peppers and onions, bacon, and mushrooms smothered in melted cheese, all to be eaten in warm, soft tortillas. Plus, it worked out extremely well that the guacamole was on the side (and we hadn't ordered it as an appetizer) so that I could use the remaining chips to savor it on its own.
Needless to say, we were throwing the white flags of surrender, aka our napkins, on the table. I tend to overeat Mexican food because it's just so good (just like Indian cuisine), so there was no way I could fit a dessert. However, for those with more self-control, don't hesitate to ask your server about the dessert options. Judging by the feast my boyfriend and I had — or rather, demolished — I'm positive that the sweet dishes are equally enjoyable.
While El Rey might not be "The King" of Mexican restaurants, I can say that my entree was the king of the Mexican food that I've tried in the city so far. So if you're looking for a nicer but affordable and unique eatery, El Rey es perfecto.