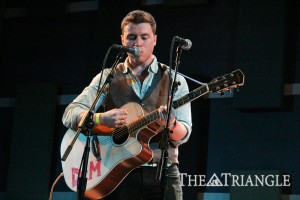 After some discussion while sitting backstage before their April 15 CD release show at World Cafe Live, members of the Drexel-based band D & M agreed that they would settle for being the third-biggest band in the world.
"We don't want to be the biggest. I don't want to have to spend too much time in Africa," Matt Jurasek, a sophomore music industry major at Drexel and the bassist for D & M, said. "Bono's got it covered."
The opening acts were Lucy Stone, Kingsfoil and Ton-Taun.
The band, whose other members include Danny Fornasa, a junior music industry major; Sean Donaghy, a sophomore music industry major; and Matt Klahre, a junior entertainment and arts management major, may not be the biggest yet, but they are on their way to making a name for themselves in Philadelphia after playing to a crowded venue for their CD release party.
Their third EP, "Wait for Me," was released April 24 on iTunes and AOL Music for digital download and physical purchase.
The band was formed shortly after lead singer Fornasa and Klahre met during their freshman orientation at Drexel University in the fall of 2009. According to the band's website, the two "decided to jam, and after playing through a song and a half, they decided they needed to start a band together as soon as possible."
For an unsigned Philadelphia band, D & M has been experiencing some valuable media attention. Their single "Sound of a Breaking Heart" was spotlighted in CMJ magazine, and Jurasek will be featured in this month's issue of Bass Musicians Magazine.
Their expectations for this album are simple: five hits.
"We only have five songs on it, so we expect hits," Fornasa said. D & M draw their inspiration from classic American acts such as The Band and some more modern acts such as John Mayer and fun.
Although all four members of the band are Drexel students, they remain independent from Mad Dragon Records, Drexel's in-house record label.
"Being within the music program, we all deal with Mad Dragon a lot," Jurasek said. "We use them as more of an educational tool. I just think it would kind of be a conflict of interests to mix the two."
"But they have our phone number and our emails on our website," Fornasa said.
For D & M, rock 'n' roll is their passion.
"I think if we got offered a deal, we'd quit school," Jurasek said. The members of the band all nodded their heads in agreement or interjected with a "yeah."
"We'd quit school in a second if we didn't have to go," Fornasa said. "We're just going because we don't have another choice right now. Why not?"
D & M's "Wait for Me" summer 2012 Tour begins July 10. For dates and venues, visit www.wearedandm.com/shows.