Drexel University welcomed the prestigious China Central Academy of Fine Arts Oct. 4 to present its latest collection at the Leonard Pearlstein Gallery. The exhibition, "The Start of a Long Journey," includes many contemporary works from CAFA's top 24 graduates.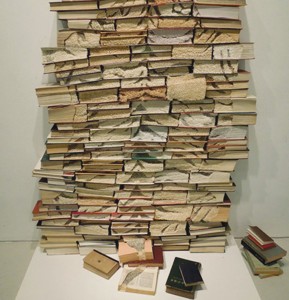 CAFA and Drexel hosted an opening reception to celebrate the start of CAFA's U.S. tour. Guests who attended were able to have a first look at the exhibition and talk to representatives from CAFA as well as enjoy food and beverages. In addition, CAFA and Drexel held a special ceremony during the opening reception where the two institutions signed a memorandum of understanding for future faculty and student exchanges.
During the memorandum signing ceremony, Dean Allen Sabinson of the Antoinette Westphal College of Media Arts & Design joined a number of notable CAFA representatives, including Wang Min, dean of CAFA's School of Design, and Wang Huangsheng, director of the CAFA Art Museum. Additionally, exhibition curator Joseph Gregory and Leonard Pearlstein Gallery Director Orlando Pelliccia were also significant organizers of the exhibition.
"The Start of a Long Journey" exhibition series first began five years ago and is a way to encapsulate the graduates' work and growth over their years studying at CAFA. It is also a way for the graduates to gain exposure to a larger audience. In the preface of CAFA's exhibition guide booklet, CAFA explains, "These young people will become artists with independent exploration capabilities and plunge into the vast artistic community." The exhibit lends a fantastic opportunity to art majors and has gained international recognition in the process.
The exhibition embraces approximately 60 contemporary pieces from the 24 graduates, including methods of art like oil painting, Chinese painting, print, installation, sculpture and video. Each piece includes a short description of the artist's inspiration, meaning, message and style. A particularly captivating example is Kim Hyo-Suk's explanation. Kim's inspiration came from the relationship between an elderly man and his dog. To turn the inspiration into an art piece, Kim used pulp, iron wire and batten (a thin strip of solid material) to create the elderly man looking out his window for his dog. He explained how many elderly people in Beijing have developed a strong relationship with their pets due to lack of contact with their own children. As a result of these personal blurbs from the artists, the audience is able to grasp a better understanding of their pieces, making the experience at the exhibition more meaningful and significant.
"The Start of a Long Journey" will be on exhibition at the URBN Annex's Leonard Pearlstein Gallery until Nov. 22.