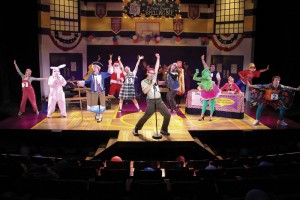 The Drexel Players opened their presentation of "The 25th Annual Putnam County Spelling Bee" Nov. 9. The musical comedy's final performances will take place Nov. 16-18 at the Mandell Theater on 33rd and Chestnut streets.
"The 25th Annual Putnam County Spelling Bee" is a humorous musical based on an improvisational play, "C-R-E-P-U-S-C-U-L-E," by Rebecca Feldman. The 2005 Broadway production (directed by James Lapine) was nominated for six Tony awards and won two, including Best Book.
The story takes place at Putnam County Middle School, where six colorful and competitive preteens compete in the spelling bee. Four audience members are also picked before the show begins to participate as contestants in the spelling bee along with the six others. As with all spelling bees, contestants are slowly eliminated. But as the bee develops, the characters are slowly but surely introduced to the audience. By the end there is only one winner, but you're going to have to see the show for yourself to find out. The answer might surprise you!
Bill Fennelly, an assistant professor in the theater program at the Antoinette Westphal College of Media Arts & Design, is making his directorial debut at Drexel with this performance. Fennelly is backed up by an A+ team that includes lighting design by Barrymore Award winner Thom Weaver, sound design by Nick Kourtides, choreography by Barrymore-nominated Jenn Rose, set design by Ian Guzzone and costume design by Lauren Perigard.
The role of Rona Lisa Peretti is portrayed by profession guest artist Emily Kleimo. Other starring roles are portrayed by Will Poost, Allison Brobst, Dan Toll, Connor O'Leary, Corey Fedorowich, Sophie Hirsch, Heather Hodgkins and Julie Mercik.
If you enjoy musical comedies, this performance is guaranteed to keep you entertained and laughing all throughout the night.
The Drexel Players are a student-run organization that works in conjunction with Drexel University's Department of Performing Arts to produce quality theater and provide service for the community.
The Players produce three mainstage shows each year: a musical, a play and a professional show, as part of the Mandell Professionals in Residence Project. Students participate in all aspects of theater performance and production, including acting, directing, design, costumes, lighting, sets, sound, publicity and box office. Auditions take place in the spring and the beginning of each fall term for incoming students.
Tickets are $15 for the general public, $10 for general students and $5 for all Drexel students, faculty and staff (valid ID required).