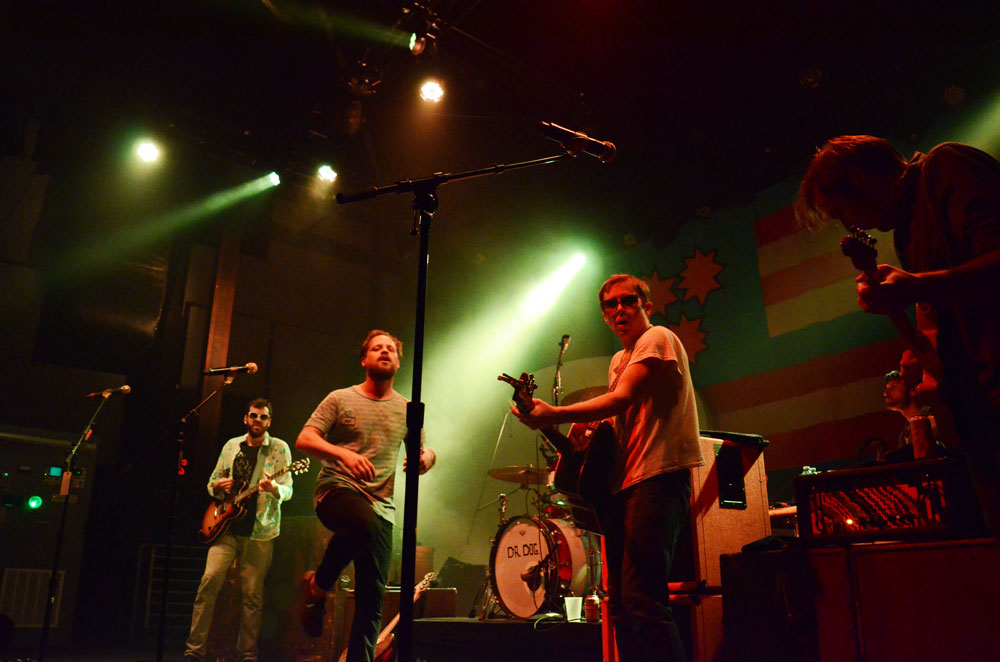 It's not often that I find myself at the theater. Too much time spent at high school musicals purged any and all interest I had in seeing a musical stage production. But when I saw that Philly's own Dr. Dog would be putting on not one, not two, but four shows of some mysterious music theater experiment called "Swamp is On" Sept. 10, I couldn't not go check it out.
Working together with the Pig Iron Theatre Group, Dr. Dog created quite an atmosphere at Union Transfer during their four-night stand. There were actors milling through the crowd dressed as security guards, complete with black suits, aviator sunglasses and earpieces. Off to the side, wader clad people sat aboard a dinghy while gutting old cassette tapes, many of which were donated by audience members at the band's behest.
On stage there was even more to see. A giant satellite dish dominated the far corner of the stage. Opposite that were stairs leading to a control console being futzed and fiddled with by scientists who were members of the Pig Iron Psychedelic Signals Auxiliary, we would soon find out. In the center was the band's gear, positioned in front of a massive projector screen. The scene as a whole created a unique atmosphere that was unlike any other concerts I'd ever been to before.
Dr. Dog played the role of the Dr. Dog Pop Detachment who were working with the Pig Iron Psychedelic Signals Auxiliary to create a "performance-experiment" that would attempt to tune into the "rare frequencies" of the Psychedelic Swamp. Together, they planned "to agitate the cosmic order and commune in real time with the sights and sounds of another dimension."
The story was a bit silly but was still a ton of fun to watch unfold on stage. There was a man dressed up as an astronaut, a scientist wearing a giant lion's head, and in the end a man covered head to toe in cassette tape. The musical aspect of the show was not lacking at all. Dr. Dog played some lo-fi swamp funks that got people jiving. The video screen displayed distorted images of the goings-on and some other snippets of film during the show.
After learning the truth about the swamp, there was still a Dr. Dog concert to be had. Once the stage was cleaned up, the band came out to a roar of applause and launched straight into "Shadow People," one of my personal favorites. It really set the mood of a set that would be composed mainly of hits, including "Heavy Light," "How Long Must I Wait?" and "Broken Heart." The group was in fine form. Drummer Eric Slick was rock solid and guitarist Frank McElroy laid down some sweet licks, particularly the solo on the cover "Heart It Races," originally by Architecture in Helsinki. Bassist and singer Toby Leaman showed off some sweet dance moves and even jumped into the crowd during "Lonesome." Singer guitarist Scott McMicken, wearing a nice "Swamp Truth" T-shirt was steady as ever throughout the set.
Dr. Dog puts on a great live show every time you see them. Combine plenty of great songs with a band that plays as tight as ever, and you won't be disappointed. Throw in the added bonus of the weird but still neat "Swamp is On" and any of the four nights of shows were not to be missed.