Open Mic Night never fails to bring in a myriad of talents. From comedians to singers, it is very seldom that you will be bored at one of these Drexel events. Prior to attending, I was in touch with one of the people set to perform that night. Her name was Diana Chittester, a singer, songwriter, guitarist and performer all in one. She is what many would consider a quadruple threat. With experience on TV news programs like the FOX 8 Morning Show and features on PBS and Indie BOX, I was excited to learn about this small-town Pennsylvania girl. I called her up for a phone interview in order to gain some more insight on her musical world.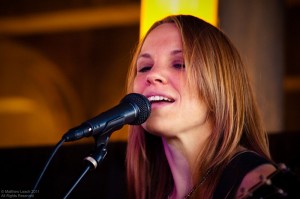 Q: What is your background like?
A: I was born in Pittsburgh, Pa., and about five years ago I moved out to Cleveland, Ohio. That's where I started playing music professionally and touring. I started Fighting Chance Records, which is an independent record label that I use to get my own music out there, but it's going to be taking on new artists here before too long.
Q: How old were you when you first started getting involved in music and why?
A: I started playing the guitar what I was 14, and I was playing around little coffee shops around campuses. When I started doing it professionally I was 24, and I've been working at it for about the past five years. It's changed a lot even within the past year; I've released a CD called "In The Skin" back in May. When I released that album I went from working local bars and clubs to actually working regionally, and that's what's bringing me into the Philadelphia area.
Q: What message do you try to give out in your music?
A: Well, my background is that my father is a minister, and I grew up in a very strong religious upbringing. When I grew up a little bit, I came out to my family as a lesbian woman when I was 21 years old. That challenged a lot of my religious upbringing. Now as far as my message goes, I really embrace the idea of people connecting to one another as opposed to looking for reasons to disconnect. That's what some of my religious practicing [was] kind of forcing me to do when I was younger, so the big message for me is looking for reasons for people to come together.
Q: What advice would you give to adolescents who are struggling with their sexuality right now?
A: Definitely to have as many conversations as you can have. Keep communication open between your friends, family and especially within yourself.
Q: What would you say is your music style?
A: We describe it as a very progressive indie cult.
Q: What are your ultimate goals?
A: Well, I'm excited to come up here, and getting ready to start a nonprofit, which will be referred to as a virtual safe zone. It's going to be an online form for [lesbians, gays, bisexuals and transgenders]  and friends and family to get on and discuss with each other, ask questions [and] find resources. I'm really looking forward to that being launched here in the next couple weeks. With music, for right now, touring is my biggest goal. We're working pretty regionally, and we're hoping to expand that internationally. Long term is to be able to give back to the music community and launch new talents and artists.
Shortly after the interview, I set out to attend Drexel's Open Mic Night in the Intercultural Center. I didn't know what to expect, but I was happy to find that everyone performing was passionate and interesting. From comedians to singers, and even a poet or two, I was constantly being entertained by a new form of talent.
When Chittester's name was called up, I was excited to put a sound to the music genre she had described. The first thing I noticed was that she definitely had a lot of stage presence, and once she started performing I was intrigued by her energy and style. She put a lot of movement and emotion into her performance, which it made it interesting for the audience to watch. Her music had stories behind it explaining situations and plights she's experienced. It wasn't just a musical performance but an opportunity for her to get her message across.
It's difficult to put into words the style and passion of Diana Chittester, which is why I encourage everyone interested in this genre of music to visit her website at www.dianachittester.com. I'm not even an indie music fan, and I still enjoyed her music. All in all, I would describe her as a very talented young woman with not only power in her lyrics, but the power to help and inspire anyone going through a difficult time. After her performance and interview, I would say she is not only a great singer, songwriter, guitarist and performer but also an uplifting person looking to give back to the community in any way possible.