Under the stage name Lana Del Rey, indie pop's new princess Elizabeth Grant has been all the buzz over the Internet in the past few months due to her first single, "Video Games," which took the United Kingdom by storm.
Del Rey has already garnered a performance on "Saturday Night Live" before having a song appear on the Billboard U.S. top 100 charts. She appears to be the perfect pop star package: unique voice, great style and those gorgeous luscious lips, but can she deliver an impressive album based on the success of "Video Games"? Does Lana Del Rey's major label debut, "Born to Die," which was released Jan. 20 courtesy of Interscope Records, live up to all the hype, or is it dead on arrival?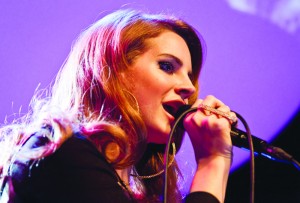 Lana Del Rey lends her sultry voice on the hip-hop styling tracks by Emile Haynie, who produced the entirety of "Born to Die." Emile is best recognized for working closely with KiD CuDi on both of his albums and for his work with Kanye West on "Runaway" off "My Beautiful Dark Twisted Fantasy." Del Rey's album opens with the title track, which starts with bold vibrant strings with a steady backing drum beat that allows the lyrics to shine. Lana is all about living fast and dying young: "Let me take a walk on the wild side, let me kiss you hard in the pouring rain, you like your girls insane."
The third song, "Blue Jeans," is about heartbreak. It shows off Del Rey's vocal range but comes off a bit cheesy with a chorus that whines, "I will love you till the end of time." Lana's first international hit, "Video Games," is the crown jewel of "Born to Die" with its beautiful ensemble of harps, violins and bells along with Super Mario Brothers-esque synths. They combine with lyrics that tell a time-honored tale of a couple playing mind games with each other through an updated video game metaphor. The next two songs — "Diet Mtn Dew" and "National Anthem" — are lacking in lyrical substance. Along with being slightly overproduced with head nodding, hard hitting hip-hop drums, these songs are compensated by their sheer catchiness. The songs "Dark Paradise," "Summertime Sadness" and "Lolita" round out the best of the rest of the 15-track deluxe version of the album.
With such an intrepid and intimidating title for an album, "Born to Die" does not shock listeners. The albums overarching themes do not shatter any pop music stereotypes. The usual themes of sex, drugs and heartbreak are all on full display. At times her lyrics lack ingenuity and her use of cliches feels contrived. What Del Rey does do right, though, is present a blues-and-jazz tone with her vocals that floats listeners away into a moody atmosphere.
Will Lana Del Rey fall into the American listeners' grace again, even after her highly criticized SNL performance? Only time can tell. She is reported to have scheduled performances this month at "The Ellen DeGeneres Show" and "Late Show With David Letterman" that will propel her back into the spotlight. Del Rey created a solid album with strong production that could easily take over the radio waves.