There is no better way to spend a weekend than sitting in the front row at Philadelphia's seventh annual Fashion Week. A sense of excitement whirls in the air as hundreds of people gather to see the latest styles, trends and talent that Philadelphia Fashion Week has to offer each year.
Unlike Mercedes Benz Fashion Week in New York, PFW provides an intimate environment in the midst of fashion craze. In years past, Philadelphia's shows were said to be extremely unorganized. To my surprise, the seventh annual PFW seemed controlled and went over more seamlessly than in other years.
PFW began Feb. 23 with a black-tie affair located at Crane Arts Old School. An exclusive variety of designers, models, bloggers and curators of Fashion Week attended the invite-only party, which was hosted by FBH the Agency.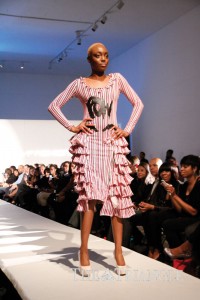 FBH The Agency produced this year's 7th annual Philadelphia Fashion Week, which, coincidentally, took place over three days from Thursday, Feb. 23 to Saturday, Feb. 25. The event saw numerous high profile national and international designers.
Kerry Scott and Kevin Parker, the founders of PFW, welcomed partygoers with a short ceremony thanking those who have been influential within the fashion community. A majority of the event consisted of networking and models sauntering around the room displaying the designers' latest creations.
Following the black-tie affair, a ready-to-wear runway show and couture runway show took place Feb. 24 and 25 at the Crane Arts Building, located on 1400 N. American Street.
The runway shows exhibited nationally and internationally known designer collections such as LAS Swimwear, Trisha Will, Search and Rescue, Pretty Pretty Rebel, Irina Sigal Couture, Banana Republic, and Mariel Rojo.
I was surprised to see an underwhelming amount of people at the ready-to-wear show on Friday night. Those who failed to purchase the $40 tickets definitely missed out on an interesting time. The fashion show consisted of an assembly of completely diverse designers, all with unique takes on fashion and style.
The runway lit up around 8:15 p.m. with Street Mode clothing, opening with an assortment of sporty jumpsuits and short cocktail dresses that transitioned into formal wear. The wardrobe pieces seemed typical and didn't really excite me in a way that would make me want to purchase the collection right afterwards.
On another note, some main trends that the models were sporting on the ready-to-wear runway included geometric prints and cutouts, light pastels and neutrals.Unlike many of the collections shown Friday night, Pretty Pretty Rebel exhibited fun punk-chic wardrobe pieces. Many of those pieces sent down the runway brought to mind a very Betsey Johnson-esque aesthetic.
The room was electrified when all could see that the models were having the time of their lives as they trotted down the runway in neon floral-printed minidresses detailed with feminine bows, each inducing a sense of rocker flare. This collection can be defined as "Pretty in Pink" meets punk rebel, and in simple terms, it is pure fun. I had the opportunity to chat with the talented designer of Pretty Pretty Rebel, Leah Delfiner. As Philadelphia's pretty-in-punk heavyweight, Delfiner explained that everyday life, past experiences and being unique inspire her designs. She claims, "Being different is something I love about my designs. There was an early point where I stopped caring what others think." This type of mind frame screamed a very established designer who goes by the name of Betsey Johnson.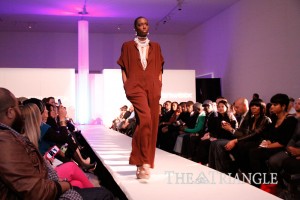 Friday, Feb. 24 was the ready-to-wear main event, held at the Crane Arts Building. The runway show assembled innovative designs that transformed jumpsuits and cocktail dresses into formalwear from designers like Mariel Rojo and LAS Swimwear.
Interestingly enough, Leah Delfiner interned for Johnson. In fact, Delfiner claims that the bold designer was a driving force in her decision to establish her own unique brand, which we now know and love, Pretty Pretty Rebel!
The Banana Republic "Mad Men" collection exhibited some of the more conservative pieces with a focus on chic work style clothing and retro-style blouses. Not to mention, the collection reverted back to the classic silhouettes and timeless wardrobe pieces such as the texture pencil skirt that the brand has become so well known for.
Similarly, Trisha Will's pure white collection evoked a timeless style. The pure white collection was arranged in a way that each piece, despite being the same color, looked different from the next.
A majority of dresses were so intricately cut that it was difficult to pull my eyes away to look at the next model marching down the runway. From short cocktail dresses to metallic jackets and long couture-like lace gowns, the collection was a fan favorite. Jaws dropped as the final look, an elegant lace gown with an open back, glided down the runway. Needless to say, the designer received a well-deserved standing ovation for her work.
Another crowd pleaser was the last collection, Mariel Rojo. As the Creative Industry Awards' Fashion Designer of the Year, Rojo did not disappoint. The collection consisted of sheer flowing dresses and skirts in light pastels.
Skin-tight riding pants in electrifying blues and greens accompanied with color blocking were also a hot topic. Rojo's pieces spoke volumes in terms of imagination and paying immense attention to detail. Each piece was perfectly tailored and had the potential to flatter any body type. Not to mention, the color palette made me want to jet set to a tropical getaway in St. Bart's.
As promised, the designers from Friday night's ready-to-wear show provided an entertaining night for all fashion lovers. PFW culminated in Saturday's couture runway show, which displayed more designers, including Autumnlin Design, Carmelita Couture, Irina Sigal and a much larger crowd than Friday night.