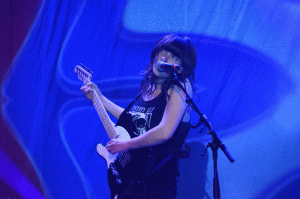 On her hit song "Avant Gardener," Courtney Barnett asks, "It's a Monday, it's so mundane. What exciting things will happen today?" If you were a ticket-holder on June 15, a Monday, then there was a simple answer to that question: seeing Barnett perform at Union Transfer. Touring in support of her debut album "Sometimes I Sit and Think, and Sometimes I Just Sit," the Australian singer-songwriter and her two band-mates delivered a stellar performance that awed the sold-out crowd.
The stop at Union Transfer marked the last show that Barnett would be preceded by two acts who also hailed from Down Under, folk singer-songwriter Darren Hanlon and the all-girl rock band Chastity Belt. Hanlon's set in particular really stood out. With his detailed, verbose lyrics, it was easy to see why Barnett invited him on tour. After a few humorous anecdotes and interactions with the crowd, Hanlon easily won over those who came early enough to see him.
Once Chastity Belt wrapped up their set, it was not too long before Barnett, bassist Bones Sloane and drummer Dave Mudie took the stage and launched right into "Elevator Operator." With Barnett on the far left, Sloane on the far right and Mudie in the back with his drum kit, there was plenty of room for Barnett to jam across the stage during almost every song. She seemed right at home delivering her copious amounts of lyrics into the microphone while strumming away at her Fender guitar. Barnett weaves her interesting perspective on things into catchy rock songs that will get stuck in your head for days on end; "An Illustration of Loneliness (Sleepless in New York)" is a prime example. It's also a track that highlights Sloane's bass prowess.
There was hardly a lull in Barnett's set as she played every song of her latest album. Going from "Small Poppies" to "Dead Fox" to "Depreston" was incredible, as Barnett and company simply did not let up. "Depreston" is a real standout track whose softer side allowed the audience to sing along with Barnett. A few songs later the sing along turned up a notch when Barnett strummed the opening chords from "Avant Gardener," the song that put her on the map. It's a great example of the cleaver wordplay Barnett has become known for, with lines like "I'm breathing but I'm wheezing, feel like I'm emphysema-ing." Then the epic song buried at the end of "Sometimes I Just Sit and Think" came next, "Kim's Caravan." The track builds and builds while Barnett sings, "So take what you want from me" over and over again until it broke out into an awesome guitar solo.
Closing the set with an intense rendition of "Pedestrian at Best" was perfect. It might have been the best song of the whole concert. Coming back out for an encore by herself, Barnett played a melancholy cover of You Am I's "Heavy Heart." Then closing the night for good with "History Eraser," those in attendance left knowing that Barnett and company might play "Pedestrian at Best," but that the band is anything but.