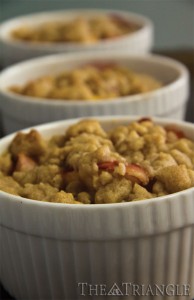 Dessert: to many, this is the course for which we can always find room. Some may lust after a decadent chocolate cake or a beautiful crème brûlée; however, I find the most appealing desserts to be the simplest combinations of everyday ingredients. I chose to exploit some of the greatest summer fruits in a dessert that is to die for ‑ Macerated Fruit with Streusel. The fruit is soaked in sugar and citrus in order to bring out its delicious natural sugars. Top that with a crumbly streusel, and you've got a delectable combination. This recipe can be altered in the fall by substituting apples macerated in brown sugar and cinnamon, topped with an oat streusel. You really can't go wrong.
Macerated Fruit with Streusel
Ingredients:
Macerated Fruit:
4 peaches
1 quart of raspberries
1 pint of strawberries
1 lemon
1 orange
1/2 cup of sugar
Streusel:
1/2 cup of sugar
1/2 cup of brown sugar (light or dark)
1 cup of flour
1 stick of butter, softened
Pinch of salt
Cinnamon
Directions:
One hour before baking, slice the peaches into tenths and strawberries into sixths; place them into a bowl along with the raspberries. Zest both the orange and the lemon, placing them into the bowl as well. Juice one half of the lemon and one half of the orange into the bowl. Sprinkle the fruit with 1/2 cup of sugar.
Preheat the oven to 350-degrees. Place the sugar, brown sugar, flour and salt in a bowl and mix to combine. Then, place the softened butter into the bowl and mash with a fork until it is completely combined; it will form clumps. Place the fruit into four ramekins (or one large baking dish) and crumble the streusel topping over the top of the fruit. Sprinkle a dash of cinnamon over the top. Place the ramekins into the preheated oven for 30 minutes or until the tops are slightly brown and the fruit is bubbling.
To make this treat extra special, serve alongside vanilla ice cream.