Drexel's Concert Band held its fall performance Dec. 2 in Mandell Theater. The large and dynamic group, consisting of more than 70 students from almost every major, gave a performance just as varied as the band's membership. Led by Wesley Broadnax, the ensemble covered a vast array of musical periods spanning over five centuries, including composers such as Giovanni Gabrieli, Richard Wagner and Dmitri Kabalevsky.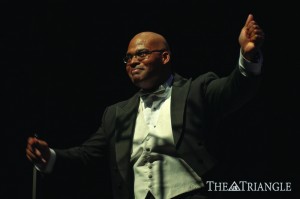 One of the most notable pieces was Wagner's "Trauersinfonie," a funeral march written to honor one of Wagner's predecessors, Carl Maria von Weber. The piece, solemn and smooth, is a stark contrast from Wagner's most famous pieces — large, booming operas that burst with power and grandeur. The concert band's rendition was beautifully sobering, yet the distinct tonal quality of a brass and woodwind band upheld the traditional Wagnerian strength in a subtle way.
Early into the concert, Broadnax addressed the audience, bringing to their attention that the concert would serve as a tribute to the late Myron Moss, a pillar of Drexel's music program. Moss died suddenly July 2 from a heart attack. Broadnax, Moss' personal friend and successor as conductor of the concert band, spoke fondly of the educator, saying, "These students up here were his life."
Bassoonist and senior physics major Mary Chessey delivered a heartfelt speech after the intermission. Having pooled together thoughts and memories of Moss from his students, Chessey composed an overarching yet detailed account of some of the ways Moss touched his students' lives.
"The overwhelming theme of the input from the students in the concert band about Dr. Moss was that he had an amazing capacity to care for us and mentor us on an individual level and surprise us with the details he remembered about our personal lives term after term," Chessey said. "His passion for music and music education fueled his drive for succeeding in other areas and encouraging students to do the same. He was a compelling leader who lived the lessons he taught and inspired as many students as he could reach along the way."
The band then played excerpts from the "Finale from Symphony No. 3" by Gustav Mahler, one of Moss' favorite pieces, according to Broadnax. The performance of the highly spiritual and touching piece was pristine yet emotional. With its delicate and resonating melody, the tune played with the sort of sweetness that evokes memories, making it easy to see why Moss loved the piece so much.
The band finished with Ron Nelson's "Rocky Point Holiday," an upbeat piece from the late 1960s. Ending with the light piece was a solid choice, which supported Broadnax's intention of using the concert not just as a tribute to Moss but as a celebration of his life and work. It is obvious that the concert band has retained the talent and dedication that Moss encouraged and has continued to grow and thrive under Broadnax's care and instruction. Undoubtedly, Moss would have been proud.