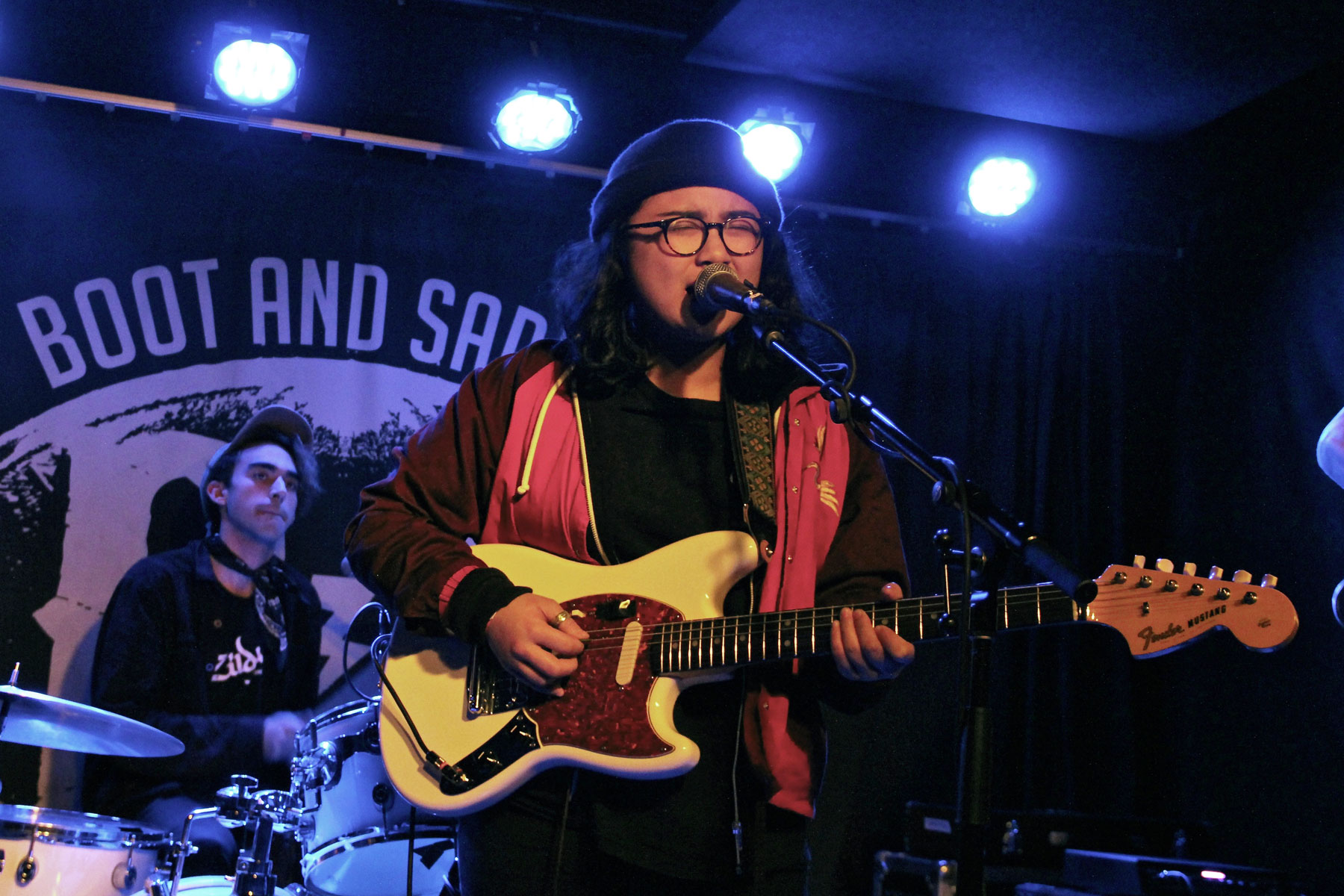 March 31 was a magical night for me — it was the night I finally got to experience Melina Duterte, otherwise known as Jay Som, enchant my ears with her indie rock, bedroom pop tunes. The Bay Area-based singer/songwriter made a stop at Boot & Saddle while coheadling on tour with The Courtneys in support of the newly released "Everybody Works."
Jay Som has a very relaxed and casual demeanor that was on display immediately upon her making her way to the stage. She gave her fans a warm hello and brief introduction to the band before kicking off the set with the title track of her last album, "Turn Into." Jay Som's dreamy vocals shone on this number and gave everyone a peek at just how heavenly the rest of the set would sound. Following this was the punchier "Take It" before Jay Som played the next title track, "Everybody Works."
After came the melancholic "Our Red Door" which led to Jay Som acknowledging that we were a rather quiet crowd. She took this time to thank The Courtneys and talk over how special it is touring with another band because you, as Jay Som eloquently put it, "share your sweaty moments together." This is just one example of the unassuming, funny remarks made by Jay Som throughout the night.
She went on to play the new album's first single "The Bus Song" to which she asked the concert goers to sing along to should they know the words. Jay Som was granted her wish within the first verse of the track as the crowd excitedly yelled "but I like the bus," resulting in the singer laughing.
When the tune ended, she commented on our singing and revoked her earlier statement about the crowd being noiseless.
Next came what is arguably the greatest track on the album which exceeded any expectations I had live. Jay Som's performance of "Baybee" was most definitely the peak of the night, causing everyone at Boot & Saddle to sway and groove wholeheartedly. The guitarist of the band exuded his skills especially on this track and during the solo which elicited several cheers and roars from the audience. The night was coming to a close so the band transitioned from the dancey number to the last track of the night, the sleepy love song "I Think You're Alright."
"Everybody Works," which Jay Som created all on her own from writing to playing and producing, was put together in a mere three weeks in her bedroom studio. The album is sensational in its entirety but listening to it over having learned this fact made it even more wondrous for me.
Jay Som's vocals sound flawless live and her stage persona which is incredibly calm made the whole performance feel organic and genuine. Having already received praise from NPR and Pitchfork for "Everybody Works" released just last month, Jay Som's superb record is well worth a listen or two.