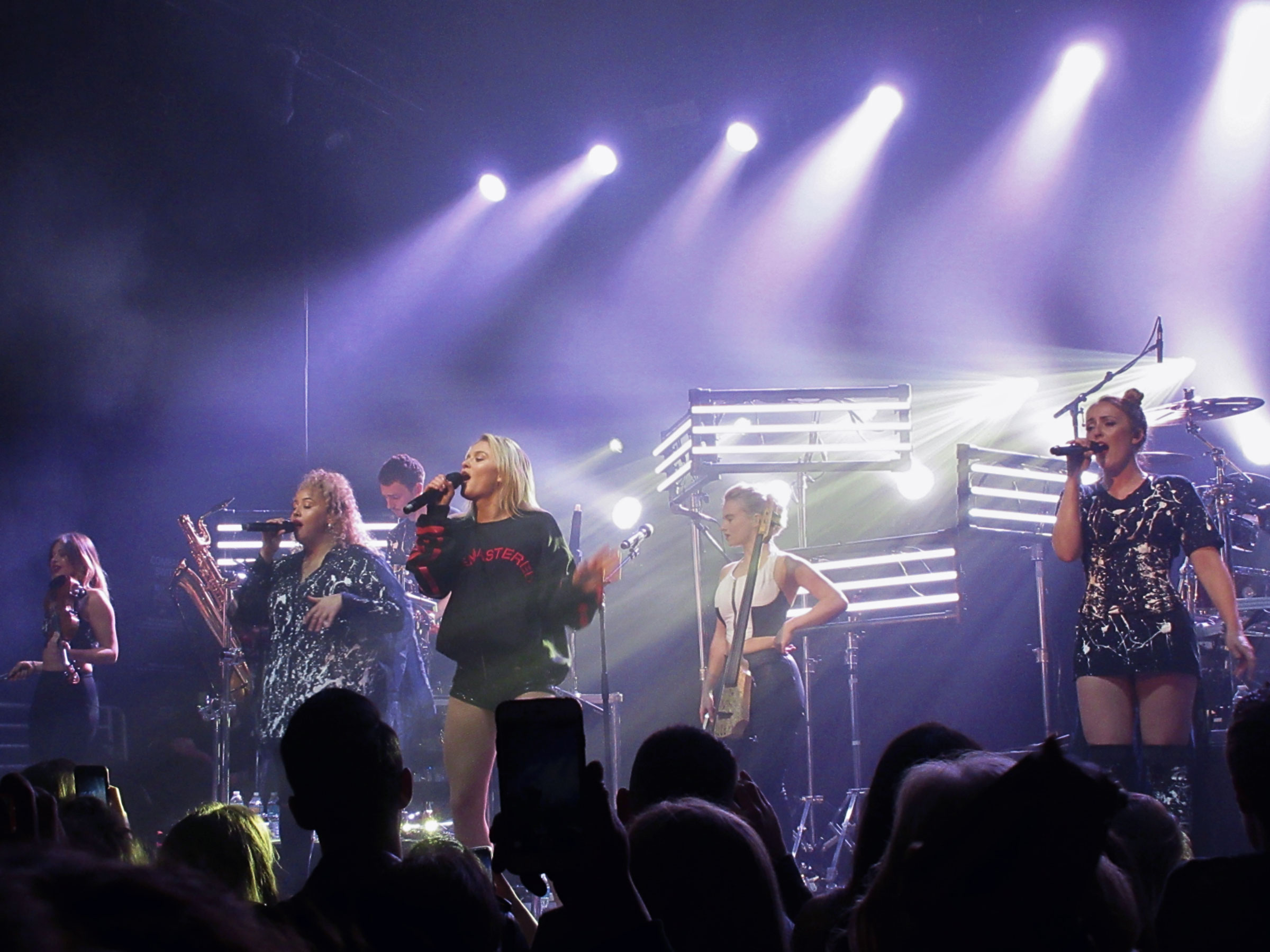 Though Clean Bandit puts out great music, the fact that they had a very big following here in the United States was surprising. Though they have had a couple radio hits, it didn't seem likely that they had enough name recognition to sell out a show here. As it turns out, they absolutely did. The trio played to a sold out crowd at Union Transfer April 22, lighting up the stage with their unique sound.
Clean Bandit's set was preceded by two opening acts, the first of which was Starley. Starley is a new artist hailing from Australia with only one single of her own officially released. That song, "Call On Me," has cracked the Billboard Hot 100 and she has ridden that wave straight into this opener slot. Her performance was engaging from the start.
She had one man with her acting as her band via synths and guitar, but her vocals and energy were intriguing enough to get the audience moving and in the mood for a fun night. Perhaps the most captivating moment in her set was when she covered the classic "Fast Car," originally by Tracy Chapman. The song highlighted her unique voice in an acoustic setting unlike the more electronic atmosphere of her own songs.
After Starley left the stage it was time for Zara Larsson. Larsson grew up in Stockholm, Sweden, where she made a name for herself at 10 years old as the winner of "Sweden's Got Talent." Since then, the 19-year-old has only furthered her career, and she signed to Epic Records in 2013. Her first album, "1," went Platinum in Sweden but didn't grab as much attention in the U.S. It wasn't until the single "Lush Life" dropped in June of 2015 leading up to her second album, "So Good," that she gained international success. She has since seen tremendous success with hit after hit, and been nominated for various awards on the Teen Choice Awards, Kids Choice Awards, VMAs, Brit Awards and more.
Even though Zara Larsson wasn't the main act of the night, many attendees of the show could argue that she was. Some may believe that she is still in the process of blowing up, but her Spotify numbers and number of successful hits say otherwise. However, it wasn't these things that led her to appear to be the main act of the show; but rather her unbelievable performance.
Larsson came out on the stage with her background dancers behind her, and began to sing her first and most popular hit, "Lush Life." In an instant, the energy in the audience legitimately went from zero to about a million. Her stage presence was captivating in a way that made everyone want to be up there with her dancing and singing. She even paused midway through her song to ask the audience who came to the show with their best friends to have a good time.
After this song, she took a minute to introduce herself, making a point to encourage the crowd to forget about all of their real life problems while they were there. She just wanted us to have the best time enjoying the music and not worrying about anything. This started off the show on a pretty great note by putting everyone in the right mood, because my friends and I all had the time of our lives dancing and singing along to every song. When the first chord to "I Would Like" started to play, the crowd all went wild. Her most recent single "So Good," that features Ty Dolla Sign, was another performance that was extremely powerful in energy within both the vocals and dancing. The catchy beat throughout the song had everyone swaying uncontrollably.
After singing hit after hit with never-ending stamina, Larsson saved her second most popular track for last. "Never Forget You" is one of the first songs that really drew me to her music, and it was an incredible way to end her set on a high note leaving the entire audience enthralled.
Zara Larsson proved that she is that artist who makes sure there is never a dull moment while she's up on that stage. This is a unique quality to have as an artist, especially within mainstream pop singers, and led many in the crowd to be even bigger fans than before the show. If you are a fan of Larsson's music, catching one of her live shows is an absolute must.
After Larsson, Clean Bandit took the stage with their assisting vocalists and violinist, all wearing various ensembles made from the same splatter-painted fabric (except for Grace Chatto, cellist and occasional vocalist, who's outfit did not match the other but remained in the color scheme). This seemed to indicate her as a de facto lead member. The other two members of the trio are brothers Jack and Luke Patterson. Oddly, neither brother uttered a single word during their show, leaving the conversation up to Grace and the two female vocalists.
Though the recorded versions of their songs feature a slew of various notable vocalists, they left the performance up to their two tour guests. And they delivered. At times, the vocalists became the focus of the show and one could forget that they were here to see the three people behind them. They acted as each other's hypemen and duet partners. Chatto stepped out a couple times to sing, but her voice was so heavily filtered that it was almost impossible to tell what she was even singing.
Their unique genre of classical instrumentation meets electronic dance music sounds too complex to make a good live performance. But, it was in fact extremely entertaining and the audience was down to dance around. A portion of the crowd knew a surprising amount of the songs played, but everyone joined in for the radio hits "Rockabye" and "Rather Be."
The crowd was also pretty excited to hear their new single, "Symphony," which features Zara Larsson who came back out to sing it. The fear at an electronic music show is that drop after drop will get monotonous, but Clean Bandit kept the hype relatively high. Chatto and the two vocalists had a couple choreographed moments that bordered on cheesy but still got the audience to cheer.
From opener to encore, this concert was entertaining. The sold out crowd remained entertained and screamed for more at the end. This three-pack was full of acts to keep your eye on.