Chardonnay was the first wine I fell in love with. It was simple, just fruity enough, easy to drink and didn't leave a stain if I accidentally spilled it on my clothes while I worked on sophisticating my swirling techniques. I loved it so much that I decided to branch out and explore a larger variety of chardonnay wines from different producers.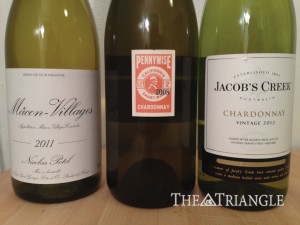 However, when I did so, not every bottle pleased me as much. The flavors and aromas were inconsistent, and many of them didn't deliver the same sensations that initially swept me off my feet. Instead, I found that some tasted too buttery or boring. After kissing too many frogs, I grew less impressed with chardonnay, and it quickly became the first wine I gave up on entirely.
I shouldn't have exiled the grape from my life so quickly. What I didn't yet have an understanding of was the concept of "terroir." It's a French word commonly thrown around by wine lovers and geeks, but to a young drinker it just sounds like another intimidating piece of confusing wine lingo. If you have taken any French classes, you may already know that there is no literal or exact translation of anything in the language. The word "terroir" is no different, but when loosely defined, it refers to wine exhibiting a sense of place.
The idea of "terroir" can also be related to something a little more familiar to a college student — coffee. Just like the origin of coffee beans can influence the outcome of their taste, a wine can possess traits derived from where the grapes that made it were grown. A vineyard's soil, climate, amount of sunlight it receives, altitude, and closeness to bodies of water can all contribute various aspects to a wine. The same type of grape grown in different places can end with distinctly different results.
Chardonnay happens to be one that delivers a special expression of place. Depending on where it is grown, chardonnay is capable of making wines that have intense minerality and acidity or ones that are friendly and fruitier. It can flourish in cooler-climate regions as well as warmer ones, and it adapts well to a range of differing terroirs. This explains why I experienced such a wide range of flavors and aromas when I first experimented with these wines, so I recently decided to give the grape a second chance. I gathered a bunch of chardonnays from France, Australia and California.
The wines I tasted from Burgundy in France smelled like lemons and wet stones and tasted like elegant chalk. This is a result of the clay and limestone that makes up the majority of the area's soil composition. The Australian chardonnays had zippy aromas of lime with flavors of fleshy fruits like peaches.
Things were a little different in the chardonnays from California. Here, the use of oak during the winemaking process is popular, sometimes too popular. If the wine is overoaked, an undesirable buttery taste can occur. When crafted beautifully, however, you can find chardonnays from here that are creamy with tropical flavors like pineapple or mango.
Of course, the winemaking process can also affect the aromas and flavors of a wine. The Starbucks barista from your hometown may drizzle more caramel on top of your latte than the ones here on campus do, just like winemakers may tailor their wine a bit differently with the use of oak, aging or fermentation styles. In both cases, the foundational ingredients stay the same, but a personal touch is added to the drink.
Not every wine expresses its unique terroir greatly. Some grapes are less successful than others. Also know that mass-produced wines like Barefoot or Yellowtail tend to lack a sense of place completely.
After revisiting my once-avoided grape, I discovered that my love for chardonnay wasn't over. I've now developed a lust for wine that tastes not only like something but also somewhere. I encourage you to do the same and have your own taste of terroir.
Recommendations:
The following chardonnays all beautifully deliver a sense of place for a bargain price. You can find them all locally at Pennsylvania Wine & Spirits stores.
Jacob's Creek Chardonnay 2012
Southeastern Australia, $8.99
White peach and honeydew melon on the nose, and pleasantly fruity with hints of citrus in the mouth with a fresh, drying finish.
Pennywise Chardonnay 2008
California, $8.99
Smells like a fusion of honey and pears. Tastes like super-ripe tropical fruits and vanilla. A full, creamy finish lingers in your mouth.
Nicolas Potel Macon-Villages 2011
Burgundy, France, $12.99
A very clean wine with white flowers and chalk on the nose. It has subtle lime flavors with bright acidity and finishes cleanly.
Louis Jadot Macon-Villages Chardonnay 2011
Burgundy, France, $13.99
This lively wine has a dominant aroma of wet stones and a hint of lemon; tastes of green apple; and a crisp, acidic finish.