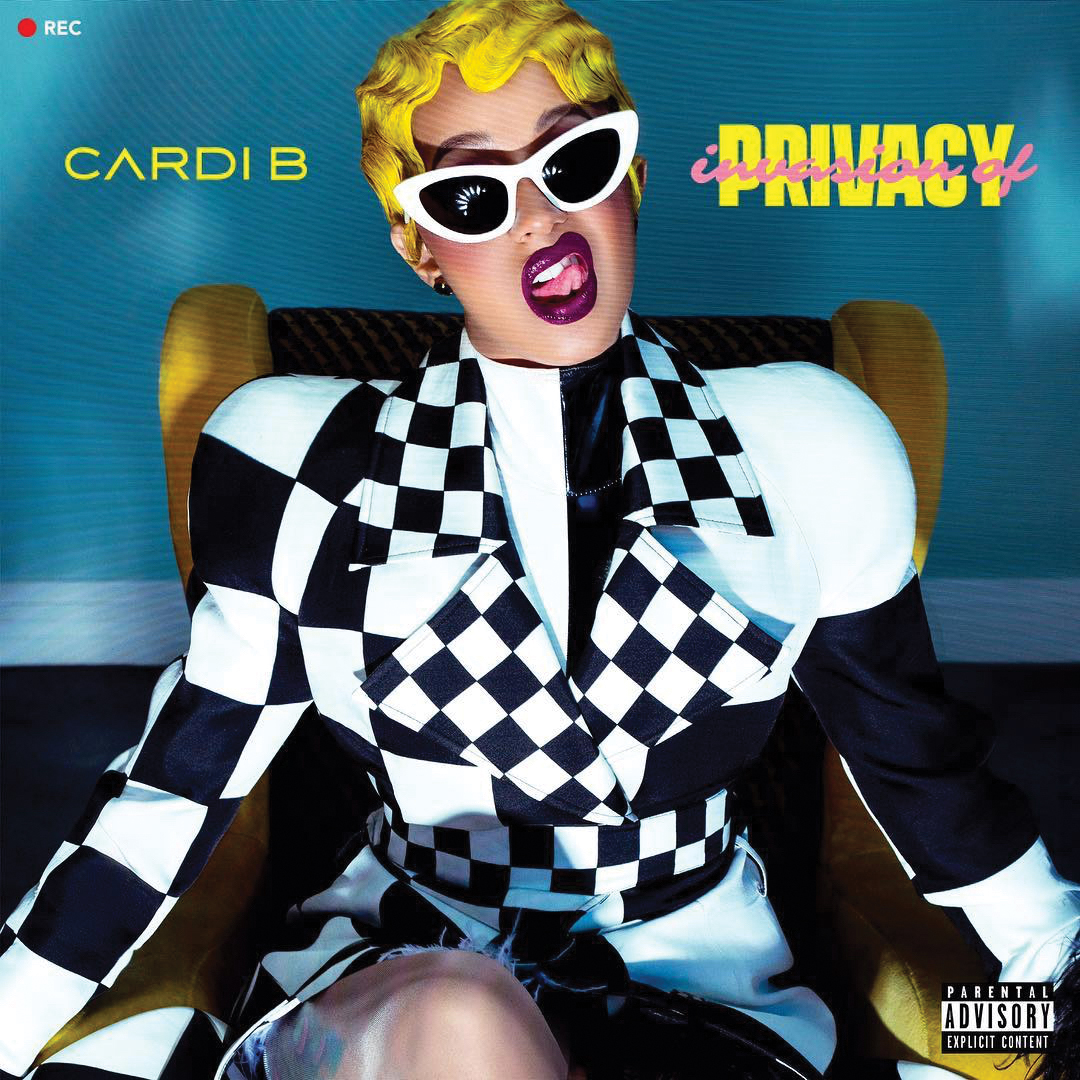 Cardi B burst onto the scene last summer after her melodic banger "Bodak Yellow" topped the charts. The song combined with Cardi's infectious personality on social media, her relentless work ethic and compelling story made her one of the rising stars to watch in the rap game.
Almost a year later, Cardi has released her debut album "Invasion of Privacy" with Atlantic Records. But, does "Invasion of Privacy" solidify Cardi as one of the hottest in the game or show that "Bodak Yellow" was just an aberration?
The album opens with "Get Up 10," a track where Cardi details her rags to riches story. The track begins with soft piano melodies and morphs into trap to accompany Cardi's energy. It plays likes her version of Meek Mill's "Dream and Nightmares."
"Get Up 10," is followed by the Migos-assisted  "Drip." The song is mostly dominated by the Migos and sounds exactly like you think it would. It doesn't do anything new for the Atlanta trio, but Takeoff's verse on the track is a standout.
After the mediocre "Bickenhead" with its crowded production, comes "Bodak Yellow," which still stands out on the album with its infectious hook.
"Be Careful" follows, and the single is one of the best songs on the album. The track features Cardi addressing the damage that cheating can do to a relationship. This track is more than likely aimed at her fiance Offset after his various rumored infidelites over the past few months.  
The track is really heartfelt, Cardi's performance on the track comes across as genuine and her singing voice is surprisingly smooth. The minimal production is also great, and lets Cardi take center stage. It is a song that I think a lot of people can relate to, and will be become an anthem for those who have been betrayed in past relationships.
The momentum continues with "Best Life" featuring Chance the Rapper. Chance fits the bubbly production well and brings life to the track with his charm to make a catchy hook. Then comes "I Like It," which is the latest addition to the Latin music craze. After the massive success of "Despacito," it makes sense for Cardi to make a track of the ilk, especially after she saw success with her "Bodak Yellow (Latin Trap Remix)." The track, which features latin artists Bad Bunny and J Balvin, samples Pete Rodriguez's 1967 track "I Like It Like That." The track shows its potential with rich production and a solid hook by Cardi, but only time will tell if it is successful or not.
Up next are two of the more pedestrian tracks on the album: "Ring" and "Money Bag." "Ring" has a strong hook by Kehlani, but not much else. Then "Money Bag" is a kind of run of the mill song for Cardi.
"She Bad" featuring YG is pretty easily the worst song on the tracklist. The DJ Mustard beat is nice, but as a fan of YG his performance feels uninspired and lazy. Also, Cardi doesn't do much to make the track stand out as her verses are some of the least memorable on the project.
Regardless, the album finishes up strong with "I Do," which features breakout singer SZA. SZA makes this track with her sultry hook that pairs nicely with the spacey trap beat done by Murda Beatz and CuBeatz.
However, despite "I Do" being a fun song, I can't help but feel the preceding track "Thru Your Phone" would have been a much more fitting closer. "Thru Your Phone" spotlights some of the core themes of the album as Cardi talks about going through her boyfriend's phone.
In the end, "Invasion of Privacy" isn't revolutionary; it is actually quite derivative, but it is a solid debut album that solidifies Cardi B's position as an MC. The Bronx rapper shows that she isn't just a one hit wonder. She shows that she has range with songs like "Be Careful," but can also still pump out bangers like "Bartier Carti." "Invasion of Privacy" is personal and lets Cardi's unique personality shine in order to make a memorable debut.