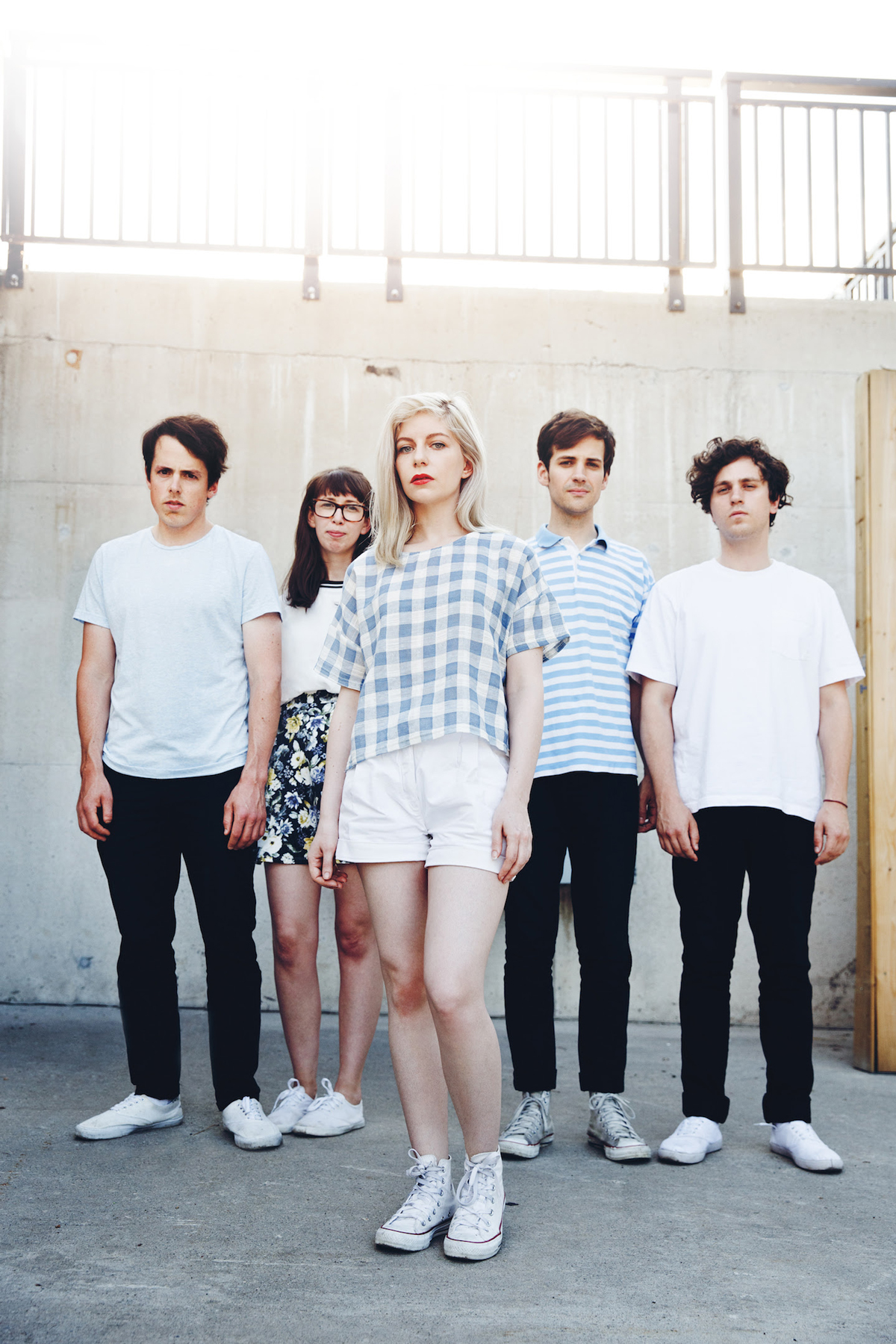 Why are Canadian bands alvvays so rad?
Whatever it is, they're doing something right up there in the Great White North. Thank goodness for tour vans, or else we might not have had such a fantastic night of Canadian indie rock Oct. 6, right here in Philadelphia at Union Transfer.
Toronto-based dream-pop band Alvvays headlined the sold-out show, the latest stop in their "Antisocialites" tour, with support from indie rockers Nap Eyes (who hail from Nova Scotia). Both groups put on riveting performances, leaving the audience energized and satiated.
Nap Eyes released their second full-length record, "Thought Rock Fish Scale," in 2016 via You've Changed Records in Canada and Paradise of Bachelors in the United States. According to their Bandcamp page, the album was recorded entirely live to tape, with no overdubs. It's not every day you come across a band who is courageous enough to record an album that way, but they managed to pull it off.
When Nap Eyes took the stage, it seemed apparent that most people in the audience had never heard of the band before. They had no idea, but they were all in for a real treat.
Nap Eyes, above all else, are solid performers. They really have good band chemistry and play their songs impressively tight. The only caveat is that they are total shoegazers — and they don't even play shoegaze music! Their heads were down almost the whole time, but I suppose their concentration and focus paid off.
Their music is pretty dynamic in style, ranging from lazy and brooding to more energetic moments. Their style is like a strange but enjoyable blend of Lou Reed and The Shins (their early stuff, that is). Lead singer, principal songwriter and guitarist Nigel Chapman captivated the audience with his crooning vocals and mesmerizing guitar licks.
Some highlights off their recent album include "Mixer," "Stargazer," "Roll It" and my personal favorite, "Lion in Chains." Their live performance proved that they are not just a studio talent, but a band who can actually play. Some bands make promises that they can't keep in terms of studio recordings versus live act, but Nap Eyes do not disappoint.
After their set, which was neither too long nor too short but just the right length, the audience was pleased and adequately warmed up for the headliner. After a brief intermission, the lights dimmed and Alvvays walked onstage just after 9:45 p.m.
Alvvays kicked off their set with a bang. They played "Saved by a Waif" off their new album and transitioned right into "Adult Diversion" off their 2014 self-titled debut, both of which are total bangers. This immediately struck me because the two songs just happened to be the encore the last time they played in Philly, at Union Transfer in June 2015 (at the time, "Saved by a Waif" was still known by its working title, "New Haircut").
When they continued on with "In Undertow," I was afraid that they were frontloading their set with all their best songs. It wasn't until later that I realized that all their songs are their best songs, and the entire set was flawless.
Lead singer and guitarist Molly Rankin performed with grace and dexterity, keeping the attention of everyone in the packed venue. Rankin is one of my favorite female vocalists in the indie rock scene right now — her voice isn't showy like Beyonce's or crazy in range like Mariah Carey's, but it simply has a beautiful quality and soothing timbre.
Other standout tracks from the evening included "Not My Baby," "Atop A Cake" and the criminally slept-on "Ones Who Love You" off their self-titled album. By the end of their set, the whole crowd was singing along to classic Alvvays hits "Archie, Marry Me" and "Party Police."
They exited the stage for a brief moment, only to return to the delight of the packed Union Transfer crowd to play an encore. They played "Next of Kin," and then followed it with a cover of The Motorcycle Boy's "Trying To Be Kind." Just when the audience thought they were finished, Rankin announced that it was guitarist Alec O'Hanley's birthday. They brought out a delicious-looking carrot cake for him (my favorite!) and the band proceeded to play a full cover of Altered Images' "Happy Birthday" (which, according to Rankin, they played for the first time that evening during soundcheck).
All in all, it was a perfect show. From Nap Eyes to Alvvays, there wasn't a dull or disappointing moment. The weather was lovely, the crowd was vibing and Union Transfer was the perfect catalyst as always. R5 Productions deserves all the praise in the world for constantly providing us with awesome, all-ages indie rock shows at UT, First Unitarian Church and PhilaMOCA.
If you ever have the opportunity to see a canuck in concert, you'd better do it!