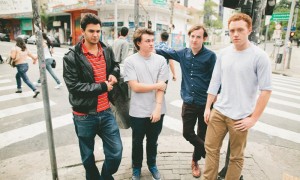 English indie rock band Bombay Bicycle Club recently announced they would be embarking on a tour to support their new and highly anticipated album, "So Long, See You Tomorrow." The band consists of Jack Steadman (lead vocals, guitar and piano), Jamie MacColl (guitar), Suren de Saram (drums), and Ed Nash (bass). The band has released four albums that all experiment in several different genres of music such as acoustic, rock, electronic and more.
With the tour scheduled to reach Philadelphia May 7 at Union Transfer, we were able to chat with drummer Suren de Saram about their new album, inspirations on and off stage, and what fans can expect from the tour.
The Triangle: There was a large gap between "A Different Kind of Fix" and "So Long, See You Tomorrow." How do you feel about the latest album? How does it differ from previous ones?
Suren de Saram: I think you're naturally always going to connect most with your latest piece of work. We spent so long making sure the album was just how we wanted it and that it made sense as a complete package. We ended up cutting some strong songs from the album because we felt they didn't quite fit in with the record as a whole. Once the album was finished we put a lot of care into working out how we'd play the songs live. [Toward] the end of touring "A Different Kind of Fix," it inevitably started to feel a bit stale after having played the same songs for a couple of years, so we're excited about the injection of energy [that] a bunch of new songs [bring] to the live set.
I say the new album is our most dance influenced because it definitely has some of the biggest "hands in the air" type moments that we've ever written. You could see one or two of the songs being played in a club and not being out of place. In fact, when recording "Carry Me," our reference was exactly that — it needed to sound like something you'd hear "in da club." The whole album isn't one big dance-fest though. There are some quieter moments such as "Eyes Off You," which make the album more of a dynamic journey. That's something that's always been important to us. You need the peaks and troughs to keep things interesting.
TT: You have a very dynamic sound. There are a handful of these kind of recurring themes, but not one single common theme that is present throughout all of your songs and records, but somehow the albums are not random and still fit together. Can you talk about this? How does your sound evolve?
SS: One of the biggest elements that ties our different albums together is Jack's voice — it's pretty distinctive and easily recognizable. Starting out as a guitar-driven indie band, we tried to sidestep the difficult second album by making a second album that was completely different than our first — an intimate acoustic album. For our third album we went back to electric guitars but as a whole it was more groove-based and less "rock" than our first album. We started adding electronics and sampling, which we've developed further for our latest album.
TT: What other artists inspire your writing and onstage performance?
SS: It was bands like Broken Social Scene, Pavement, Sonic Youth and Yo La Tengo that brought us together at the beginning. Our folk-inspired second album was heavily influenced by people like Joni Mitchell, John Martyn, Joanna Newsom and Nick Drake. Although it wasn't until our third album that the electronic influence started to come through, we've always been into that kind of music — people like Aphex Twin, Boards of Canada, Four Tet and Bibio. The sampling aspect of hip hop has become a big influence more recently as well. J Dilla is a big inspiration in that sense.
Performance-wise we're quite inspired by groups like Broken Social Scene, Arcade Fire and Animal Collective — bands where the membership is fluid and it's about various musicians getting together and having fun. The four of us in the band have remained constant but we've toured with a live keyboard and electronics player and various female vocalists over the past few years. When possible we like to get other musicians involved; brass and percussion players for example. There's quite a lot going on sonically on the new album in particular so everyone on stage is busy.
TT: What are your favorite songs to play live?
SS: I'm very much enjoying playing a song off the new album called "Overdone." It's got a huge hip hop inspired groove. In fact, when we were working on it, the working title was "Hindustanye West" — reference to the Bollywood strings sample that it features and also the fact that before Jack added vocals to it, we could see the instrumental being the backing track for a Kanye West tune. It's basically the closest I've ever come to feeling like a hip hop drummer.
Also, the ending to "So Long, See You Tomorrow" is good fun to play live. It's this sort of psychedelic freak-out for which we bring another mini drum kit on stage so Jack can jam along with me.
TT: What are the biggest lessons you've learned from being a band?
SS: You shouldn't be scared to take risks. We've done things in quite an unconventional way by making albums that have been very different [from] one another. Some people have had their doubts along the way, but I think it has paid off in the long term. Deciding to self-produce this latest album was also a risk, but we gave it our best shot and are really happy with how it turned out. You just need to have the confidence to go ahead with things.
Something I also like about being in a band is being sent things by fans, whether it's a letter or something they've made. We don't get sent a huge amount, but when we do get something it makes me realize how we're affecting individual people. If you lose sight of what you're doing for whatever reason, or if you're playing a big show and it just seems like you're playing to a sea of people, hearing about how your music has helped a single person puts things in perspective somehow. Every person coming to see us has their own connection to the band and that makes everything that bit more worthwhile.