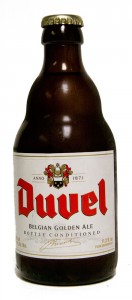 Ajon Brodie  The Triangle
This week I finally broke down and cracked open a bottle that I have been hoarding for some time now. This particular bottle is a Belgian Golden Strong Ale named Duvel. Its wonderfully complex taste, aroma and effervescent carbonation combine to provide a very enjoyable and refreshing drinking experience. I've been holding onto this bottle in my personal collection for a while, as it's a bit outside of my normal price range and I wanted to see what a little aging would do to it, but I decided that it was time to open it.
Duvel is brewed by the Duvel Moortgat Brewery, which is headquartered in Breendonk, Belgium. The brewery was opened in 1871 by Jan-Leonard Moortgat, a Flemish brewer from Steenhuffel, Belgium. Moortgat quickly made a name for himself by producing excellent ales, which he distributed by horse and wagon throughout the surrounding region with the help of his sons. The onset of the First World War brought an influx of Englishmen, who brought with them their taste for English Pale Ales. These beers gained popularity in Belgium, and Moortgat's son Albert decided to create a special beer incorporating English characteristics. This required obtaining a sample of yeast from somewhere in England, which proved to be no easy task; Albert wanted to work with a Scottish yeast strain, but during his trip the local brewers were disinclined to give him a sample.
Fortunately, he kept trying and eventually managed to obtain his yeast, which is still in use today. Albert and his brother Victor introduced their new beer as Victory Ale in commemoration of the end of WWI, but this name was to be short-lived. During a tasting session in 1923, a local cobbler was surprised by the potent aroma and commented, "This is a real devil." From that year on, the beer was marketed as Duvel, which is Belgian for Devil. This beer is still immensely popular internationally and has now become the prototypical beer around which the Belgian Golden Strong Ale style guidelines are written. The company has managed to remain in family ownership over the years even as it expanded, and now also owns Ommegang Brewery here in America, which you may have had to pleasure to taste.
Duvel poured a golden yellow color without any chill haze or sediment floating in it. The head formed as one finger of medium course white foam, although this dissipated quite quickly into a thin layer of very fine bubbles. This film was very long lived, and provided a good amount of the classic "Belgian lace." One thing that stood out to me was the effervescent quality of this beer, as it gave off several constant streams of bubbles from a couple of locations on the beer, similar to Champagne. The aroma was quite complex and delicate, with some bitter and earthy hop notes mixed with lighter fruits, including apple and citrus, as well as a little bit of a yeast character.
The taste of this beer was very complex, changing significantly over the course of a single sip. The initial taste was fairly sweet, but was very rapidly followed by a moderate bitterness coupled with the sharp bite of the carbonation, both of which subsided quickly. The element that came next was quite surprising in this beer: a nutty and slightly earthy finish, which subsided into a lingering sweetness. As the beer warmed up, the carbonation dropped off, but the complexity grew as some fruity esters came out — a soft mix of apple, pear and orange — although it lacked the peppery, slightly spicy character that I remember from tasting this beer previously.
As this beer is rather light and complex, it will pair well with light meats (such as poultry), fruits and mild cheeses. Personally, though, I like this beer by itself, as this lets me explore the taste without the accompanying food masking anything. Duvel should be served in a tulip glass, as this was the company that designed that glass, and this is the beer it was intended to hold. Duvel actually lists a step-by-step process to pour this beer on their website, accompanied by a video, which I found to be quite amusing. One cautionary note, however, is that about a centimeter of beer should be left in the bottle, as this beer is bottle conditioned and thus has some yeast sediment on the bottom.
I highly recommend giving this beer a try, as it is a truly excellent example of the Belgian Golden Strong Ale style. The taste is light enough that anyone can enjoy it, and complex enough that any beer nut like myself will be shut up while enjoying the nuances of the taste.
Price: $5.79
Size: 330 mL
ABV: 8.5 percent
Appearance: 5/5
Aroma: 5/5
Flavor: 5/5
Mouthfeel: 5/5