The University of Pennsylvania's Arthur Ross Gallery held an exhibit titled "California Impressionism: Masters of Light" from Aug. 18 to Oct. 28. To celebrate the closing of the exhibit, a panel was held Oct. 27 and moderated by Lynn Marsden-Atlass, the university curator. The gallery featured more than 30 pieces, all from Californian impressionist painters.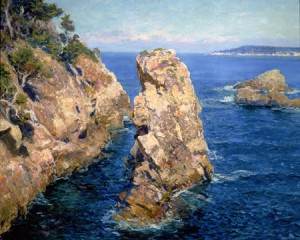 The panel featured Andre Dombrowski and James Irvine Swinden, president of the Irvine Museum, from which the exhibit was taken.
The paintings beautifully depicted the purity and richness of the California landscapes. Much like the original French founders of impressionism, these California artists dedicated their lives to illuminating the light and the darkness within their paintings. Their brush strokes were dedicated to making the painting an impression, what the landscape truly looked like in that exact moment of time.
The panel discussion was held to celebrate the 30th anniversary of the Arthur Ross Gallery, and it focused on comparing the distinctions between French impressionism and Californian impressionism. The panel especially focused on the fact that Californian impressionism stepped out of bounds and incorporated stylistic features from other artistic movements.
Dombrowski said that Californian impressionism was unique due to its "flexible attitude toward style." Because Californian impressionism arose much later than French impressionism, artists were able to combine those particular techniques with the techniques from other movements such as Fauvism. The fluidity of the movement gave freedom to the artists to create their own interpretation of the landscapes they were painting.
Featured artists included Colin Campbell Cooper, Anna Hills and Guy Rose. The work of these celebrated artists was remarkable, for it truly captured the beauty of the Californian landscapes. Marsden-Atlass said that the vivid colors in the paintings looked unrealistic, but after she visited California she realized that artists were able to depict the Californian light impeccably. Spectacular paintings included Guy Rose's "Pont Lobos." Painted in 1918 on an oil canvas, it features a hiking trail and the ocean illuminated by the light. Other pieces of art included Franz Bischoff's "San Juan Capistrano Mission Yard" and Thomas Hill's "Following the Trail."
The entire exhibit was well planned out, and the paintings were deliberately placed together in order to show a variation in different kinds of landscapes. The color scheme throughout the paintings also connected the entire exhibit and helped the audience transition from one painting to the next. The gallery greatly highlighted the color and composition of West Coast landscape.