A few years ago, director Ari Gold (not to be confused with the "Entourage" character of the same name) premiered his movie "Adventures of Power" at the Sundance Film Festival. The film is now out on DVD and is resonating with audiences nationwide.
This heartfelt film is about a small town boy with a very large dream. It sounds like a typical movie ploy, but Power's (yes, his name is Power) ambition is anything but ordinary. While Power's father, who heads the mine worker's union in town, decides to lead a strike, Power sets out to fulfill his dream of becoming a respected air drummer. On his cross-country trek he discovers an underground sub-culture of air drummers who take their craft very seriously. Lacking actual musical talent, they depend on the beat within themselves to perfect their air-drumming abilities. Power has to try to find a way to make his own dreams come true while figuring out how to save his hometown.
It's a silly and fun concept, but underneath lies a serious theme that everyone can relate to: working hard for your dreams. Power is ridiculed beyond belief for what he wants to do, as many people are, but he doesn't let that stand in his way. Though the movie is riddled with hilarious exploits that will have you falling out of your chair laughing, it still manages to stay grounded. After a while, the ridiculousness of the air drumming becomes the backdrop for the real story and you find yourself rooting for Power to succeed, even if he is a big goofball.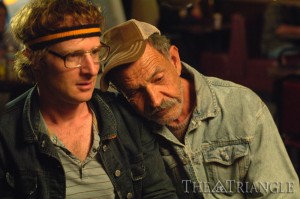 The film itself has a certain campy feel to it, reminiscent of films like "Napoleon Dynamite." However, that is not to say that it doesn't have a well-formed and intricate plot. It is refreshingly original and audiences can't help but become absorbed in the story. Prepare to be charmed by and emotionally invested in this movie.
Power isn't the only memorable character in the film. Every single character, big or small, has a very distinct personality that shines through. This can be attributed to good screenwriting and brilliant acting all around. Some of the supporting cast includes big name stars such as Jane Lynch of "Glee" fame and Adrian Grenier, best known for his role on "Entourage." They each use their limited screen time wisely to create important and entertaining roles in the story, as do the rest of the cast.
The music used throughout the film is another important aspect, and the sheer amount of big hits used in the film is staggering. Obviously a movie about air drumming requires some awesome music to air drum to. The variety of tunes ranges from songs by Phil Collins to Rush, so the audience is entertained not only by the visuals but also with pure listening pleasure as well. The film gets even more musically serious with a cameo from Rush drummer Neil Peart, who is widely renowned as possibly the best drummer of all time.
This is an excellent example of an independent film done right. It is full of heart and has the feel of being carefully and lovingly created by a determined director.
The DVD features deleted scenes, multiple trailers, a long interview with Neil Peart, original music videos featuring Ari Gold and Adrian Grenier, some short films by Ari Gold and much more. It's worth the buy.