Steve Aoki graced the stage of the Electric Factory Oct. 24 alongside rapper Waka Flocka Flame and dubstep disc jockey Borgore. After the first opening DJ finished his set, Waka Flocka wasted no time getting the audience hyped, as he made a quick entrance onto the stage. Waka's drummer followed suit and further pumped up the audience by jumping around and playing the drums, all while parading around the stage. At one point Waka seemed to have disappeared, but then people started screaming as they looked above into the balcony to see Waka Flocka rapping with the crowd around the bar. Waka was all smiles as people quickly whipped out their phones to take pictures of and with him. While Waka was busy with the balcony crowd, his DJ and drummer brought up some women in rave outfits to dance while the crowd waited for Waka to return to the stage.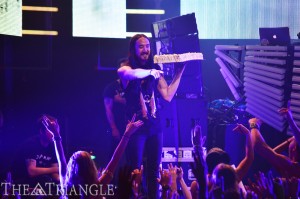 Photo Courtesy Dominick Lewis. Steve Aoki performed with Waka Flocka Flame and Borgore at the Electric Factory Oct. 24. Aoki played hits like "Turbulence" and his remix of Kid Cudi's "Pursuit of Happiness," as well as his new song with Linkin Park, "A Light That Never Comes."
Waka's set was fairly simple, with a couple screens showing grungy pictures and videos of him on repeat. Fortunately, Waka's presence alone was good enough for the audience, as his street team gave out T-shirts and backstage passes to lucky audience members. Waka's set was over pretty quickly, but fans got to hear some of his most popular songs like "No Hands" and "Hard In Da Paint." Waka left the stage as abruptly as he entered, and so began the arrangement for Borgore's set, which turned out to be a stark contrast to Waka's simplicity.
Borgore left nothing to the imagination with his performance. His props included two huge ice cream cones filled with tons of streamers and confetti as well as two acrobatic pole dancers whose flips and tricks left the audience in awe. Borgore sat behind his DJ booth mixing dubstep, trap and any kind of EDM one could imagine. His screens played elaborate trance clips and pictures on repeat, and one couldn't help but be distracted by the lights and colors illuminating the stage. Fans sang along to one of his popular songs, "B—–s Love Cake," which features Miley Cyrus on vocals. The set closed out with the ice cream cone confetti machines blasting the audience and covering them in multicolored pieces of paper.
Around 11 p.m., Aoki's team began to set up his stage. "A-O-K-I" was spelled out in giant electronic letters that moved around and lit up the stage. Everyone was pumped for Aoki to make his grand entrance. When he finally did, the crowd went wild. Geometric lights were set up on both sides of the stage, containing people who "awakened" as giant robots and danced onstage.
Aoki's set list included some of his most well-known songs: "Turbulence" (featuring Lil Jon), "Beat Down" (featuring Iggy Azalea) and his remix of Kid Cudi's "Pursuit Of Happiness." In addition to the music part of the show, Aoki and his team kept the performance interesting by throwing cakes and crowd surfing in giant inflatable rafts. Aoki made sure that there was plenty of cake to go around, throwing it into the crowd and caking a birthday girl right onstage.
Aoki closed out the show by playing his new song in collaboration with the band Linkin Park called "A Light That Never Comes." As the audience started to leave the venue, the remnants of the night completely covered the floor. Cake, glow sticks, and an outrageous amount of confetti were all left behind as the doors to the Electric Factory closed.