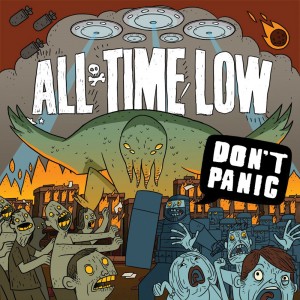 Oct. 9 marked the release of All Time Low's fifth studio album, "Don't Panic." After critics and fans gave a lot of negative feedback to last year's "Dirty Work," Alex Gaskarth, Jack Barakat, Rian Dawson and Zack Merrick decided to leave Interscope Records and return home to Hopeless Records for the release of "Don't Panic." The recording process started in early 2012 when the band was between labels after a mutual parting of ways from Interscope in late 2011. For the entire album, they worked solely with producer Mike Green instead of using a different producer for each song as they did with "Dirty Work" and "Nothing Personal." This is the big change that helped singer-songwriter Gaskarth grow as a lyricist and All Time Low grow as a band.
The album starts with lead single "The Reckless and the Brave." The band released this song back in June before making a run on the 2012 Van's Warped Tour, and the "fan reaction was unbelievable. We released it on our website, and three days later the kids already knew all the words," Barakat said. The song is really catchy and encourages taking the path less traveled and following your dreams. All Time Low fans, or "Hustlers" as the band calls them, really connect to this song, and it's a great album opener.
The second song, titled "Backseat Serenade," features backing vocals from Cassadee Pope, formerly of Hey Monday. This song features heavy drumbeats and easy-to-learn melodies from the "old" All Time Low. This song is set to become a new All Time Low anthem and will definitely be found on set lists in the future.
The next two songs, "Somewhere in Neverland" and "So Long, Soldier," are very similar. They both share the typical ingredients of a pop-rock song: a great intro, a catchy chorus and a huge mid-song instrumental breakdown, which make these perfect songs for live performance. Also, if the chorus of "So Long Soldier" sounds a lot like the band's 2005 release "Circles,", don't be fooled — the band took the same melody and reworked it for this album. I sincerely commend them for using songs from the past that fans all know and love and incorporating them into the new album.
My personal favorite song is "The Irony of Choking on a Lifesaver." It's a great song about loving someone who keeps letting you down. It's super-catchy with a meaning to which a lot of people can relate, with lyrics like "You're the snake hidden in my daffodils when I'm picking flowers. You're the break lights failing as my car swerves off the freeway. Why can't you just be happy for me?" It also has an awesome guitar riff that is going to sound sick at a live show.
Jason Vena of Acceptance sings on the track "Outlines," and let me tell you, you are in for a treat. This pop-punk song with dance-beat verses and a ballad-worthy chorus is the highlight of the album. Co-written by Fall Out Boy's Patrick Stump, you can definitely hear a lot of his influence in the hook and chorus. The song just may be good enough to hold you over until Fall Out Boy returns from hiatus.
The last standout track on the album is "For Baltimore." Although it starts off a bit slow, this song is one of those blast-with-the-windows-down-and-volume-all-the-way-up songs. It's about going out in their hometown of Baltimore and has a similar storyline to their earlier crowd-favorite "Six Feet Under The Stars." They say that this song is paying homage to the past, to their home and to the fans who have never left their side.
Although I seriously love this album overall, there are a few dozers that I did not like. One of these is "If These Sheets Were States." This song genuinely bores me. They have multiple songs on each of their albums about life on the road and missing a girl back home, and it gets old sometimes. This album also lacks an acoustic track. I usually look forward to these songs because Gaskarth's voice stripped down is very powerful yet angelic, and it's nice to hear him sing without the clutter of a full band track.
"Don't Panic" is honestly the record that fans have been waiting for since "So Wrong, It's Right." It's a perfect collection of the best aspects of each All Time Low album, and I couldn't be prouder of them as a band. To the people who lost hope in the band, I hope you give this album, and All Time Low, a second chance. They have really redeemed themselves with this one. You can download the album on iTunes or pick it up at any retail store. Catch All Time Low live Nov. 17 at the Theater of the Living Arts as part of the "Rockshow At The End Of The World Tour" with The Summer Set, The Downtown Fiction and Hit The Lights.