It's been three years since Alicia Keys last released an album, and during that time, quite a bit has changed in her life. After marrying and having a son with producer Swizz Beatz, Keys took some time off before getting back into music. With her fifth studio release, "Girl on Fire," released Nov. 27, Keys once again showcases the incredible consistency and unique rhythm-and-blues style that have made her a star since her 2001 debut album, "Songs in A Minor."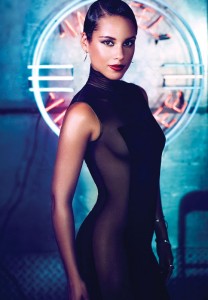 "Girl on Fire" begins with Keys playing piano on the intro track, which then leads right into "Brand New Me." Fittingly, Keys' first line on the album is, "It's been a while; I'm not who I was before." The song steadily builds throughout, reaching its climax as Keys stretches and shows off her range as the drums pick up in intensity.
The album continues with "When It's All Over," one of the better songs on the album, which ends with Keys' son, Egypt, speaking. This part will likely cause many to stop, smile and say "aww." The calm, cool pace continues with "Listen To Your Heart," another strong record, before transitioning to "New Day," which was produced by Swizz Beatz and hip-hop icon Dr. Dre. This track, which is sure to be the album's next single, features Swizz's iconic drum patterns alongside smooth keys.
Instead of using the original version of the lead single on the album, Keys chose the "Inferno Version," featuring Nicki Minaj, who oddly decided to whisper the majority of her verse. This rendition of the track is an incredible exhibition of Keys' vocal range, but it loses a bit of its power and meaning with the feature choice.
For "Fire We Make," Keys teams up with one of the kings of babymaking music, Maxwell, for the album's lone duet. This passion-filled song comes to an end with an amazing guitar solo from Gary Clark Jr., who recently released his first major studio album, "Blak and Blu."
"Tears Always Win," co-written by Bruno Mars, brings back the classic Keys sound that fans have fallen in love with, followed by the album's first true ballad in "Not Even The King." The classic vibe continues with "That's When I Knew," co-produced by Babyface.
After a few soulful and powerful songs, Keys then tries to switch up to a reggaeton sound with "Limitedless," which is clearly not a word in the English dictionary and a song that should not have made the cut for the album. She follows the odd attempt up with the Frank Ocean co-written "One Thing," which sounds more like a song of his than hers, but it is nonetheless still very good. The album comes to an end with "101," another ballad, which is one of Keys' better vocal performances on "Girl on Fire."
Despite taking a few years off, Keys clearly has not lost a step in her ability to create incredible R&B music. While there are no classic hits like she's had in the past with "If I Ain't Got You" or even "No One," Keys continues to deliver at an elite level with "Girl on Fire."