When it comes to just about any institution, the name of the game is showmanship. So long as your product is eye-catching and unique, you're in business. Flashing lights and pretty sights turn consumers into rooks, ready to grab anything that sparkles.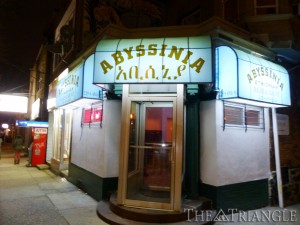 The same cannot be said for restaurants. Sure, a restaurant can have all the pomp in the world, their name alone able to conjure up a hushed reverence. They can charge exorbitant prices for insubstantial plates and generate an absurd waiting time (it's literally impossible to get a reservation at Dorsia). However, it's never these restaurants that people brag about. It's the polar opposite, hole-in-the-wall gems that you'll hear about from a knowledgeable friend, the same restaurants that have the "absolute best (insert dish here)." This is because restaurants are the only industry in our society that can check rampant advertising with quality. We all love our food, and if you don't give us something worth our time and money, your business will fail, no ifs, ands or buts about it. That's the exact reason why small, out-of-the-way joints can survive, even without excessive advertising.
Abyssinia is a prime example of this phenomenon. I swear, this restaurant could not be any less advertised. Even their main entrance, with signs, labeled awning and all, is a false entrance. Patrons must enter from a small door on the side of the building. This might be taking the "hole-in-the-wall" effect a little too seriously, but after eating there, that doesn't bother me in the slightest. The interior was also not much bigger than quaint, but the cultural decor, such as the sombrerolike traditional tables, adds a subtle ambience over the experience.
As found in other foreign cultures' eating customs, the Ethiopian fare of Abyssinia is eaten not with utensils but instead with a bread base, injera. Injera is a spongy flatbread used to pick up and eat the rest of a meal. When I ordered my Meat Combination (a mix of three other dishes containing lamb, beef and chicken), the different sauces and meats came piled up on a few pieces of injera. It's not a messy way to eat, though, and the injera adds a slight, soft feel and almost imperceptible doughy flavor to each bite. One thing to note is that this really fills you up. Eating a relatively small portion of a main dish with this bread will leave you more than satisfied.
In an effort to include as much of the fare as possible in this review (for you), I ordered the Meat Combination. At $12.95, the Meat Combination includes a bit of lamb, beef and chicken, each in its own special sauce, along with one other sauce, a mass of vegetation and a small salad. The minor smorgasbord came out just waiting to be devoured. Although each portion of meat wasn't very large, the chefs managed to pack more flavor in each tender bite than I've had in ages, and being an adept food aficionado, I sample my fair share of cuisine on a regular basis. The chicken was light and juicy, with a smooth but slightly sweet taste to it — not earth-shattering but very, very enjoyable. The beef was extremely tender with a slight tang in the sauce that left me craving more as soon as I'd cleared my injera. However, the piece de resistance was the lamb. Bathed in a sauce somewhat similar to the beef, the lamb gripped my tongue with its tangy kick, but the flavor inherent in the lamb took my mind on a journey into carnivorous heaven. It was as if each puny morsel held just a touch of meaty ecstasy.
It is very difficult to describe anything after reminiscing over the lamb. I will now give it my best shot. The other sauce was … well, it was palatable. It had a smooth feel but lacked any real flavor. It was as if one took all of the pungent flavor and heavy body out of thick beef gravy. It wasn't bad, but there was nothing really in the sauce to make it enjoyable. The vegetation I mentioned earlier was what I believed to be lentils. This was the only part of the meal I actively didn't enjoy. The lentils tasted like a mix of overpowering "meh" mixed with the aesthetic appeal of creamed spinach (a dish widely regarded as "meh"). As was the trend with these sides, the salad was unremarkable. The lettuce was crisp and the tomato was juicy, but neither had real taste. I won't fault Abyssinia for this, though; it was all I would ever expect from a side salad (eating it with injera was interesting, however).
Overall, Abyssinia's a great place to eat. You get more than your money's worth, especially once you factor in the injera, and the food can be incredible at times. Whether you're interested in having a filling meal that will excite your taste buds or just want the novelty of eating Ethiopian food, I fully recommend checking out Abyssinia.