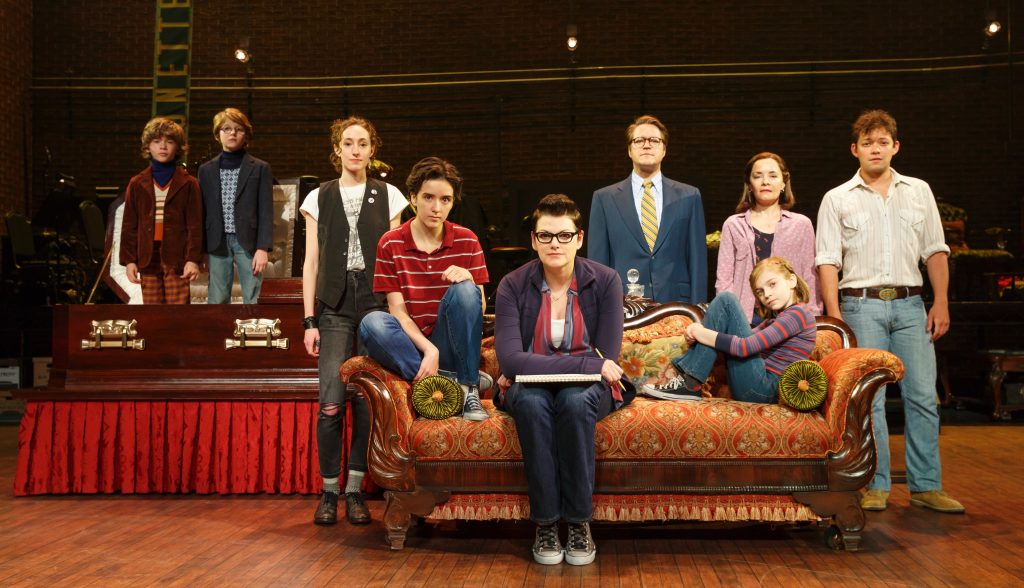 "Come to the Fun Home / That's the Bechdel Funeral Home, baby!"
This is how our main character, at this point a very young Alison Bechdel, introduces us to the funeral home for which the musical is named. For a narrative about a girl who has to come to terms with her sexuality and her father's suicide, it's a jarringly cheery number.
A touring production of "Fun Home" is currently making its rounds, and stopped in Philadelphia at the Forrest Theatre for a brief stint June 13-18.
Based on the 2006 graphic memoir "Fun Home: A Family Tragicomic" by feminist icon Alison Bechdel, the musical follows her life in a nonlinear fashion. It features three stages of her life: young girl, college student and grown woman. The musical, which started its run on Broadway in 2015, was nominated for 12 Tony Awards and won five, including best musical.
"Fun Home" certainly lives up to all the hype. Despite only being a one-act musical, each minute is packed with beautiful, emotional scenes that keep your heart racing. Some scenes were extremely tense, while others were more lighthearted and outright hilarious at times.
The way the musical's narrative works is very captivating. The grown Alison Bechdel acts as the narrator, writing her popular graphic memoir throughout the course. Each scene from her youth is like a flashback in her mind, as she sketches out each "panel" of the graphic novel. It was interesting to see her reminisce and reflect on pivotal moments from her youth, captioning each scene for the memoir.
Numbers like "Changing My Major," during which a college-age Alison, beginning to discover that she likes girls, professes, "I'm changing my major to Joan! I'm changing my major to sex with Joan … With a minor in kissing Joan!" had the crowd roaring. On the flip side, the more heartbreaking numbers such as "Days and Days" and "Telephone Wire," had everyone silently captivated.
The cast did an especially commendable job, each portraying the characters with such honesty and charisma that it took me in and kept me there the whole time. Most notable were Alison's dad Bruce played by Robert Petkoff, "Medium Alison" played by Abby Corrigan and Alison's mother Helen played by Susan Moniz.
The child actors also did a phenomenal job, making each scene they were in a fun one. When they popped out of a coffin and sung "Come to the Fun Home" a la Jackson 5, the whole audience was jamming along with them. The scene easily put the "fun" back in "Fun Home."
The orchestra, directed by Micah Young, did a nice job as well. The background musicians are often forgotten among all the other amazing moving pieces of a musical, but these folks added to the spectacle by performing on the stage towards the back rather than in a pit underneath.
My personal favorite musical number from the show was "Ring of Keys." During this song, a very young Alison thinks about the first lesbian woman she encounters ("an old-school butch," as she describes her). She was just a delivery woman, but Alison felt a strong, unspoken connection with her that she couldn't quite comprehend at that age. She is on the cusp of discovering herself, making acute observations about the woman that feel familiar to her in some way.
It seemed almost too perfect that it should be running the same weekend as the Philly Pride Parade, given the LGBT focus of the musical. Hopefully some of the folks who took part in the parade made their way to the Forrest Theatre afterwards to catch "Fun Home," because it was a truly great production of an amazing show.