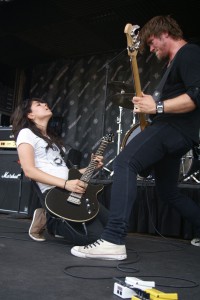 Vans Warped Tour, a yearly fixture of many music fans' summers, is notable for its variety of rock music, but what makes the festival stand out is the fact that it is a tour. Chicago has Lollapalooza, Tennessee has Bonnaroo and California has Coachella, but Warped Tour belongs to all of North America. There are kids that attend their hometown show every year and some that travel all over the country or come from outside the country. While the crowds are full of people from all over, so are the musical acts. Bands, like some fans, find themselves in places new and familiar, faraway and close to home.
The festival's stop in Camden, N.J., July 21 brought some bands back home. One of those bands, The Wonder Years, drew a large and excited crowd. According to bassist Josh Martin, the band treasures the Philadelphia area that always receives them warmly.
"We're from right across the river, outside Philadelphia. Other shows in Philly, for the last couple years, have been treating us really well and treating us like we're from here and being proud of us. And it's really awesome to feel welcomed in [the place] where you're from," Martin said.
Another band consisting of Drexel graduates, June Divided, won a battle of the bands contest earning them a spot on the Camden tour date. While none of the members are originally from Philadelphia, the band started here and Philly has become home for them. They share the sentiments of many other bands about home shows.
"It's fun traveling but there's nothing like playing a home show," vocalist and guitarist Melissa Menago said.
Guitarist Chris Kissel agreed, saying, "When you're travelling you're kind of trying to convert other people … to like your music."
Yet playing Warped Tour at home is a little different because there is greater opportunity for exposure. Hometown bands are not just playing for family, friends and fans that bought tickets specifically to see them.
"[There is] a built in fanbase," Kissel said. "There are so many people here that you're going to find new people who have never heard you before."
This kind of exposure is the main benefit for bands in Warped Tour's lineup. For London band TAT, the festival helps get their name out to an American audience. They had performed at Warped twice before and returned this year for three dates.
"We're not on the whole tour and this is our first gig on this little stint of shows we're doing and we still had people turn up," guitarist Nick Kent said. "[There was] a girl in the front row singing all the lyrics and a few other people who came miles to see us."
Although Camden, N.J., is quite far from its British counterpart, Warped has aided TAT in developing a fan base here.
"Camden has always been a really good vibe for us. We've always enjoyed playing it. And I think we have some pretty great fans out here" vocalist and guitarist Tatiana DeMaria said.
While to some it may seem that Warped only benefits smaller bands trying to get their name out there, well-established bands still use Warped to gain new fans.
"There's a ton of kids here that would never come to one of our shows," said Relient K guitarist Jon Schneck. "This year it's a real scream-heavy Warped Tour so there's a lot of fans of real heavy music. Every time we play, we play to a ton of new fans, a ton of new people and we hope they become fans."
The past few Warped Tours have come to Camden, N.J., along with a heat wave but that never stops music fans from showing up. Most accept the heat as something that is part of Warped Tour's definition. The dedication of the fans, as well as the bands, that travel near and far are what make it a success. This year Warped management finally won a battle over water prices, making water available for a cheaper price. They also brought Klean Kanteen on tour for refill stations, making the heat a little more bearable for the crowds.
With less worry and money going towards water, discovering and purchasing music of new discoveries was easier for fans this year. Overall, the diverse crowd and musical artists appeared as jubilant as ever. Regardless of where people are from, to some a Warped Tour show feels a bit like home. One can see it in the eyes of those singing along and the smiles of those gracing the stages.